irishtimes.com

- Posted: July 19, 2012 @ 6:48 pm
If you only do one thing this weekend . . . consult the doctor
Laurence Mackin
The doctor is in: Frank Ocean's latest release has critics climbing over themselves to call it album of the year – a sentiment I don't disagree with (and here's the evidence). But before Mr Ocean set about rewriting the rules of r'n'b and hip hop (no, really), there were two pacesetters earlier in the year setting out their very effective stalls.
Bobby Womack took plenty of people by surprise with his career rejuvenating and modestly titled album The Greatest Man in the Universe, and the other stunning piece of work came from another veteran that many people had long sent out to pasture in their minds – Dr John.
With some help from Dan Auerbach of the Black Keys, Dr John harked back to his earlier work as the Night Tripper on Locked Down. Spooky voodoo New Orleans vibes lurk in the shadows of this one, lending things a real sense of danger and unpredictability, while hip, bang up to the minute funk make the whole ensemble sound vital and essential. On Tuesday, he is bringing his live show to Dublin's Vicar Street – and with a player as demanding as this leading from the front, expect a night of thunderous groove and the kind of playing that takes decades to perfect. Lock it in.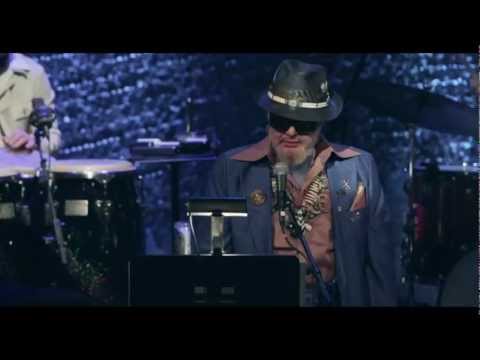 Culture clash: There's a lot of quality on offer on the live-music front in the coming days, particularly for acts outside of the mainstream. Along with the above, there is a jazz triumvirate of Phronesis, Sligo Jazz Project and Oko to choose from. And tomorrow night, the Helix plays host to a cultural mash-up, with the home-grown class of Iarla Ó Lionáird and Steve Cooney trading musical phrases with Maori musicians Whirimako Black and Richard Nunns, and a 17-strong band to put things into the heavyweight category.
Western style: Where to start with the Galway Arts Festival? Perhaps with the desperately affecting The Outgoing Tide, starring John Mahoney and Rondi Reed? Or maybe the absurd economics of Julian Gough's The Great Goat Bubble? You could get a sense of perspective, or rather lose it altogether, with David Mach's epic exhibition Precious Light, the centrepiece of the arts festival's programme. Or maybe tackle Marina Abramovic's autobiographical performance, produced in collaboration with videomaker Charles Atlas, in which the artist delivers a monologue that traces a concise personal chronology. An embarrassment of riches, but what else did you expect from the GAF?
Northern soul: Further north, the Earagail Arts Festival still has Donegal in its grip. Stephen Brennan will be reading from Flann O'Brien's classic The Third Policeman on Sunday, and there is still time to catch Fishamble's The Wheelchair On My Face. On Friday, the excellent We Cut Corners with support from In Their Thousands will be packing out Voodoo in Letterkenny. But it's the closing party that is the hot ticket. The twin engines of JD Twitch and JG Wilkes will be bringing their Optimo club to the northwest, with Scottish garage punk The Rosy Crucifixion sending things off in style on Sunday night. And then there's the sensory processional feast of Puja from LUXe, featuring sculpture, aerial acrobatics, dancing fire, shadow play, illuminated installations, costume and music at Fort Dunree, Buncrana on Saturday.