irishtimes.com

- Posted: July 17, 2012 @ 5:24 pm
How's this for a jazz trio?
Laurence Mackin
The next week or so sees a powerful trio of jazz performances across the country. So now is the perfect time to take a chance on some more challenging music.
First off, on Friday, is the home-grown talent of Oko, featuring guitarist Shane Latimer, keyboardist Darragh O'Kelly (who also plays with Republic of Loose and Niwel Tsumbu), percussionist Shane O'Donovan (Dublin City Jazz Orchestra and Isotope regular) and turntablist DJackulate (North Strand Kontra Band).
The band, formed in 2010, are set to release their debut album, and they take a freeform approach to composition, so expect some improvisation amid the wealth of influences, ranging from krautrock and free jazz, to dubstep and metal.
Also on the bill at the Twister Pepper are: the acoustic dubstep of Ghozties; Neil Becannon's turntable duo; and Outer Spaceways Inc, a 14-piece ensemble playing the music of Sun Ra.
Then on Monday, UK/Scandinavian jazz trio Phronesis are coming to these shores for the first of two shows. There are few bands with the live power of Phronesis, and few jazz acts with their crossover appeal. The band might use a traditional piano, bass and drums set-up, but their sound in full flow is cacophonous and aggressive, with Jasper Hoiby leading the charge with his huge double-bass grooves, accompanied by Ivo Neame's frenetic piano lines and Anton Eger's inventive, muscular rhythms.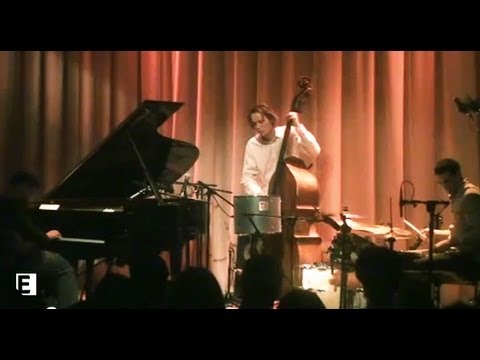 Don't like jazz? Press play. Are you sure you still don't like jazz?
In August, the band debuted their Pitch Black project, which saw them play concerts in total darkness (the idea was Hoiby's response after his sister went blind). These shows got rave reviews, most notably at the Brecon Jazz Festival, and led to the band's fourth album, Walking Dark on Edition Records, which was released in spring 2012.
The Dublin show in the John Field Room of the National Concert Hall won't be pitching into darkness, though you can still expect a serious set from one of the most explosive bands around. Even if jazz isn't your thing, this is well worth taking a chance on.
Phronesis will also be featuring at one of the country's most interesting musical enterprises next week – the Sligo Jazz Project. This turns the west of Ireland town into one big jazz summer school, where advanced players and those just getting to grips with the canon can take part in masterclasses with players of exceptional, international calibre. The classes are accompanied by a series of concerts that any city or festival would be happy to host – that Eddie Lee manages to keep this festival happening every year in Sligo is testament to how much the players enjoy it, how much the students and punters get from it, and perhaps how persuasive a man Mr Lee is.
This year's line-up features Indian tabla virtuoso Zakir Hussain and his Masters of Percussion, in concert on Monday, followed by Phronesis on Tuesday, New York trombonist Marshall Gilkes on Wednesday, and Nigerian guitarist Femi Temowo on Thursday. Kenny Wheeler was due to participate but ill health means he won't be there in person, so pianist John Taylor will be delivering a musical tribute to Wheeler in concert on Friday instead. Saturday night sees them send off the project in style with an ensemble concert, led by US bassist Rufus Reid.