irishtimes.com

- Posted: December 11, 2009 @ 10:02 pm
The Gogarty EFF-ect.
Harry McGee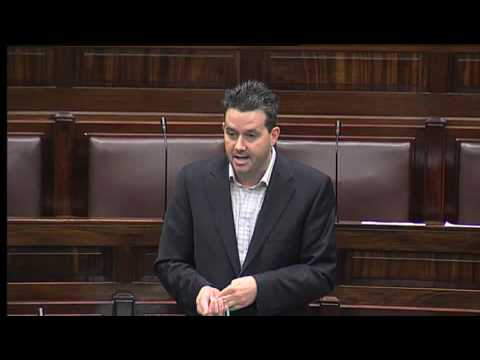 It's not pretty. The venom in which he uses it is disturbing. He hurled the expletives at Emmet Stagg.
The Labour Party whip hadn't exactly been baiting him. All he accused Gogarty of was blathering and bleating, which is commonplace. And, to be blunt about it, that was exactly what he was doing. Gogarty was wrestling with his conscience in public; saying he though the social welfare cuts were unfair but that he was still voting with the Government.
It's clear that he is easily baited. He's the Dail's version of Paul Galvin and the opposition knows how to rise him. But no matter how he explains the frustration behind it, it's still terrible. And I think he's going to face the red card from the Committee on Procudures and Discipline.
Later when he apologised, he said that the F word was not one of the words that is verboten. He's quite correct. I got my hands on a copy of the relevant rulings, the insults seem to be harking to a bygone era. It is mostly archaic and kindergarten expressions. No bad words as we would define them now, not even the offspring of an unmarried parent or that quaint Dublin expression that rhymes with pollocks.
Here is the definiite list. My three favourite are communist; corner boy; and yahoo.
Brat; buffoon; chancer; communist; corner boy; coward; fascist; gurrier; guttersnip;
hypocrite; rat; scumbag; scurrilous; and yahoo.
It's also considered disorderly to accuse a female Deputy of "handbagging" an opponent. That harks back to an exchange between Austin Currie and Maire Geoghegan Quinn in 1992.  She objected to handbagging as a description of a negotiating style. Strangely enough she raised no objection when Alan Dukes came up with an alternative term: groin-kicking.