irishtimes.com

- Posted: September 13, 2011 @ 9:51 am
Frankfurt motor show live
Michael McAleer
Time for some reflections on the first day as things starts to wrap up at Frankfurt. Well I've reconsidered my initial scepticism of the VW Beetle after they unveiled a version of the new car that will feature the same powertrain as the fantastic Golf R.
Elsewhere the Jaguar concept remains a firm favourite amongst the great unwashed motoring press. Ford's new design concept, the Evos (revealed in Motors last week), stole a lot of attention and even generated further idle gossip that it might herald a new Capri. Sadly, once more, chief designer J Mays was at pains to state categorically that the return of the iconic 1970s Ford coupe is but the work of idle minds. There are definitely no plans for one and this car has nothing to do with a revival.
Speaking of idle minds, the Audi stand might not house that much in terms of dramatically new production cars – except perhaps the revised RS5 – but it's set tongues wagging for its scale. The temporary structure is made of concrete and is the size of most of the other permanent halls at the Frankfurt exhibition centre. Costing an estimated €10 million to build, one wonders what further uses it can be put to after the 12-day show comes to an end. AudiWorld perhaps?
So to the car of the show? All views are welcome from what we've offered you so far, but for me it's a tie between the Jaguar C-X16 concept (that will eventually become the XE when it goes into production) and on a more practical front the Skoda MissionL. Of the rest, we're particularly looking forward to pitting the new Fiat Panda against what is likely to be its toughest rival to date: the new VW Up!. We hope to have that twin-test in Motors for you over the next few weeks.
Tomorrow it all starts again so we'll report back with updates on the revised Toyota Avensis, the new Opel Zafira and loads more. Happy motoring.
The Opel battery-powered tandem 2-seater RAK e is quite the odd-ball and it shows Opel's concept of a "dynamic lightweight concept" of a zero-emission vehicle. This 'car' has a 100 km driving range and 120 km/h maximum speed and you are supposed to be able to take it on the motorway although I wouldn't fancy it. It reminds us of the Sinclair C5. Opel say that to drive 100 kilometers would cost just €1. The RAK e also aims to make pure electric driving affordable for younger customers, allowing for drivers as young as 16.
Over at Fiat there was the unveiling of the new Panda which is a car that is held in massive affection by the Italian carmaker. The same basic flavour of the Panda has been retained but the car is now a little bigger than before, with more generous interior space and luggage space. There is a new engine range too, with buyers able to choose from two TwinAir twin cylinder engines  - an 85hp TwinAir Turbo or the new 65hp naturally aspirated TwinAir, both with Stop/Start as standard. The 69hp 1.2-litre Fire engine will complete the petrol engine range, but there will also be 75hp 1.3-litre MultiJet 2 diesel engine, also with Stop/Start.
The new Skoda Mission L concept won us over last night at the VW Group preview event. Well our interest in it has only grown stronger in the light of day, or at least the stage lights of the show floor. It's not revolutionary in any way and the styling reflects as much the German influences t play in the brand as any of the brand's heritage, but it's a pretty spacious family hatchback that we suspect will prove very popular with Irish buyers already taken by Skoda's strong value proposition in Ireland. Priced between Fabia and Octavia, you could expect it to start at about €17,000 or even below, which will really appeal to the growing number of mid-size family car buyers.
The new version of the Hyundai i30 was revealed at the show and the new car is a big step-up in terms of quality and looks. There will be a choice of two petrol and two diesel engines, although Stephen Gleeson, Hyundai Ireland's Managing Director said that they intend to just retail the two diesel versions. The diesels will be a 1.4-litre with 90hp and a1.6-litre with 110hp. Both will be in motor tax band A. The new car will be available with a variable steering rack, Flex Steer, so drivers can choose between levels of assistance. The car will come to Ireland in the first quarter of 2012.
Toyota continue to tease us. We should eventually see the FT86 in Ireland sometime next year and we can't wait!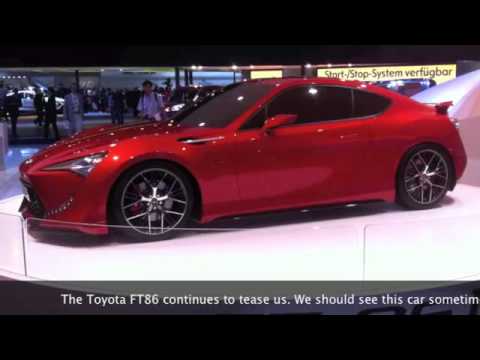 The Jaguar C-X16 Concept was revealed and it is absolutely stunning. Ian McCallum spoke about how this car was the first two-seater Jaguar to be produced since the E-Type and therefore had a lot to live up to. Certainly the car is pretty enough, with the now familiar Jaguar face – but the rear has a very short overhang. The concept car is powered by a 3.0-litre V6 producing 380hp and 450Nm of torque, but it is also a hybrid. A 70kW electric motor adds a further 235Nm of instantaneous torque at the touch of a button. Jaguar is saying that this concept can get to 100km/h in 4.4 seconds and is limited to 300km/h. All this and with emissions of just 165g/km it would sit in motor tax band D.
It has been a long time in coming but Opel finally revealed its Astra GTC production car and it looks great. The new car will come with a choice of five engines, with output between 100 hp and 180 hp. There was the first showing of the 1.7 CDTI ecoFLEX version of the new Astra GTC that will be available with 110 hp and 130 hp, both with the Start/Stop system.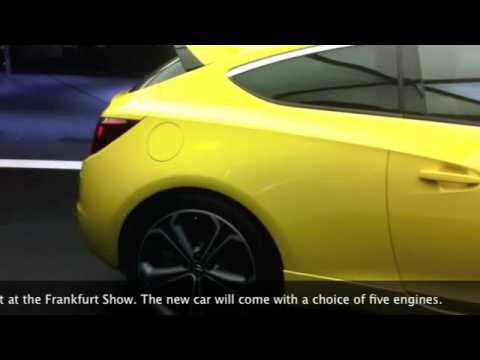 We had previously seen pictures of the DC 100 Concept from Land Rover, which is one of what is expected to be several design studies of the replacement to the much-loved model. At the press conference, design chief Gerry McGovern also revealed a Sport version, harking back to the days of the open top version.
Both concepts are based on the same, shared 100-inch wheelbase. They feature sustainable hi-tech materials and the latest technology, which Land Rover says will optimise fuel and operational efficiency at all times, in all modes and in all driving conditions.
Honda's new Civic will hit showrooms by mid-December in time for January sales. The revised model retains much of the look of the current hatchback and will come with a 1.8-litre petrol and 2.2-litre diesel at launch, but there are some reports that the firm is preparing a 1.6-litre diesel for launch in time for 2013.
The hatchback will be the only variant on offer in Europe, while a hybrid version has been shelved for now. However, both of the launch engines have strongly improved fuel economy and emissions figures, with the 1.8-litre petrol emitting just 138g/km – qualifying for the €156 a year motor tax rate – while the 2.2-litre emits just 110g/km, thereby earning it a band A rating and motor tax of just €104 a year.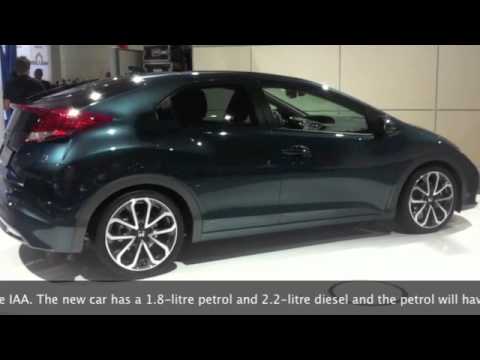 The interior has been improved with a better quality feel and more intuitive controls. Otherwise there is no mistaking that it's a Civic: the only problem is that not very many made it onto our roads during the lifetime of the outgoing model and Honda will be hoping to secure much better sales figures with this new model. Promises include much improved suspension and comfort, while retaining sporty driving. We await a proper test drive to see.
Following on from the launch of the new Focus ST, Ford has also unveiled a new 1-litre petrol engine which will go into the new Focus range early next year and claims the equivalent power output of a 1.4-litre but with emissions of less than 120g/km.
The new 1-litre petrol engine comes with either 100bhp or 120bhp and will also feature in the firm's new B-Max model, a high-roofed rival to the Meriva that's based on the current Fiesta. Ford executives declined to discuss whether the engine will make it into the next generation Mondeo but they did so with a wry smile. However, there was plenty of interest in what could mark the revival in the fortune of petrol engines, with Toyota engineers swarming the display stand for the new engine just an hour after its unveiling, cameras in hand.
Ford is also introducing  a new range of cleaner "Econetic" Focus and Fiesta models, with the Fiesta putting out 87g/km and the Focus 89g/km, using a variety of green features. The problem at present for Ireland is that there is no tax incentives for such low emission vehicles over and above what the current range offers by managing to be lower than 120g/km. The annual motor tax remains the same.
The star of the Ford stand, however is the Focus ST, to be sold as both a five-door and an estate in Ireland next year, but there was another hot-hatch surprise with the unveiling of a new Fiesta ST concept that's almost certain to go into production. Powered by a 1.6-litre 180bhp petrol engine it will not only be relatively quick, with a 0-100km/h time of under 7 seconds, but it also manages an emissions level of less than 140g/km. So we can look forward to a hot hatch that will fall into tax Band B and under the current rates, qualify for motor tax of just €156 a year.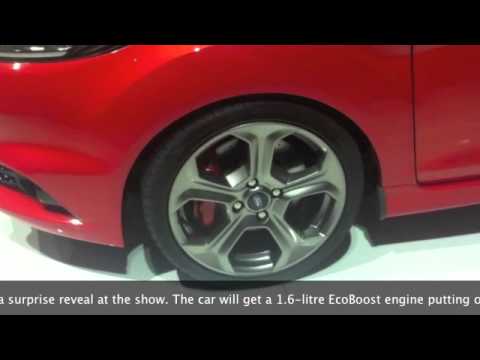 And so it begins with an 8.30am press conference by BMW where the new 640d coupe is unveiled alongside promises to embrace an electric future. The scope of BMW's offering is on display at their massive stand that takes up a whole hall and features a "roadway balcony" on which everything from electric Mini concept cars to Rolls Royces drive around above your head.
The contrast in offerings is stark: alongside the launch of its new electrically powered i-range of models is the launch of the new M5, a 560bhp behemoth that boasts 680Nm of torque. While the electric i3 hatchback will not hit our roads before the end of 2013, the M5 will be available next year, indicating that the world may well be changing, but not quite yet.
Connectivity was all the rage at the presentation, a theme that is going to run through the entire show as the motor industry embraces the world of the smartphone and tries to bring appropriate apps for traffic management, parking and the like through to motorists.