irishtimes.com

- Posted: December 23, 2010 @ 12:55 pm
Time for a tyre rethink?
Michael McAleer
If you had asked the average motorist in the street during the summer, if their car was front-wheel drive or rear-wheel drive they would have looked at you blankly and walked off. Few, apart from those of us who enjoy boring others with our tedious car knowledge really had reason to know or care. Until that is, the winter of 2010.
Winter 2009 did give us a clue of what was to come, with bad levels of snow and ice, which carried on until the first part of this year. But it was nothing compared to the unprecedented levels of snow and ice that have fallen this year. I asked my Dad, who is 76, when he had last seen snow like this and he replied, "1947" which means that it has been a while.
Back then, he tells me, cars were mostly rear-wheel drive, had rubbish tyres and slipped about like a motherless foal at the first sight of ice. But people didn't drive in those conditions. Because we have to use our cars to get to our crèches and schools and offices we cope as badly.
Rear-wheel drive cars, such as those made by BMW and Mercedes-Benz have come into focus for the fact that they are terrible in ice and snow. Terrible that is, with the wrong tyres. Front-wheel drive cars do a little better normally because the engine is over the driving front wheel and this provides a little better traction. In a rear-wheel drive car, the engine is at the front and the wheels are turning at the rear without much weight on them.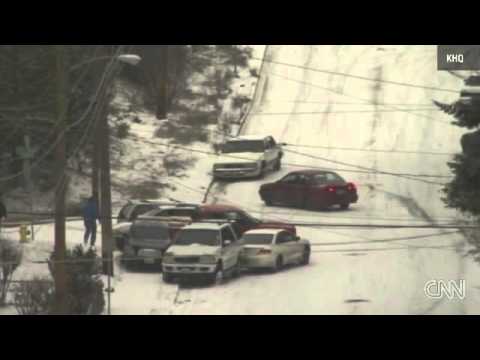 And in a lot of cases, despite the best efforts of these car's fancy electronic systems, the cars that are sliding about hopelessly are the really expensive ones. You would think that the Germans would have figured this out then? Well of course they have. They just put on proper winter tyres.
Since most of us rarely care about our tyres at any time of the year, it is a big leap for us to suddenly think about getting a second set. So why should we get winter tyres? Unlike summer tyres (everyday standard tyres in Ireland), winter tyres do not harden at lower temperatures. That means they give you a much better grip on the road and the ability to stop in a shorter distance. The rubber compound of a winter tyre is very different to a summer tyre. It is designed specifically to work in temperatures under +7 degrees centigrade.
With the tyres that most of us have on our cars, when the temperature drops the tyre compound loses its flexibility, making it less grippy in low temperatures. Winter tyres are made from specially developed compound with more natural rubber so they don't harden when it's cold, which means increased grip on the road and greater safety.
On ice and snow winter tyres provide grip that no summer tyre can match.  A vehicle fitted with winter tyres will come to standstill on a snow-covered road (from a speed of just 50km/h) after 35 metres – with normal tyres the braking distance required is a further 8 metres (43 metres). That is another two car lengths. Or a nasty repair or insurance bill. Or worse.
Winter tyres are a legal requirement in other EU countries such as Austria, Germany and Finland and many offer specific winter recommendations. This could eventually happen here if the weather conditions get consistently bad every year. This year there was a big demand for winter tyres all of a sudden and sadly they were proving hard to find in Ireland. One tyre distributor told me that it was simply down to space. They couldn't order all the winter tyres they would need for the various sizes of car so people would have to order them specifically and this was taking time. Sales of winter tyres across Europe were also unprecedented this year, so there was a shortage across Europe.
Then there is the problem of where to store your summer tyres when you have your winter tyres fitted. In places like Germany they have 'tyre hotels' which will store your summer tyres for you while you use your winter tyres. This doesn't exist here except for BMW, who have now introduced a winter tyre programme for BMW and Mini customers. Prices vary by model but start at €580 for a complete set of four winter wheels and tyres on a MINI Hatch and €828 on a BMW 1 or 3 Series.
If you are reluctant to change tyres and have nowhere to store summer tyres when they are not in use, according to tyre firm Continental you are better off using winter tyres all year round. "Winter tyres are as quiet and comfortable as summer tyres and, thanks to sophisticated compound technology, do not wear any more quickly," said a company spokesperson.
"There is a slight trade off with stopping distances as a winter tyre does not stop as quickly in the dry as a summer tyre, however, on balance if it is not possible to switch tyres in the winter, experts say you are better off with winter tyres all year round. This is because the difference in stopping distances of summer tyres in winter is far greater than for winter tyres in the summer," they added.
There has been a surge this year in people buying winter tyres from the Internet if they can't get the winter tyres at a local outlet. The most popular site appears to be eiretyres.com, which appears to source tyres from Germany and is based in Hanover. On this site there are a variety of brands from some pretty ropey Chinese tyres to better-established brands.
This week I am driving a pretty standard Volkswagen Golf 1.6-litre diesel with 195/65 R15 tyres. Concentrating on the premium brands, because we wouldn't encourage anyone to buy the nasty cheap tyres, the results varied in price on this site from €74.60 per tyre for the Dunlop SP Winter Response, €77.20 per tyre for the Continental WinterContact TS 830, €78 for the Bridgestone Blizzak, with the most expensive being the Pirelli Snowcontrol Serie II at €97 per tyre.
Supposing we chose the Continental WinterContact tyres which have rated very highly in tyre tests. That is €308.80 for four tyres, including postage and packaging which is included in all of their pricing. It asked me to key in where I would like them fitted. I entered where I am from, which is Drogheda and it offered me two outlets where they can be fitted for me nearby which is €15 per tyre on steel wheels or an additional €10 per tyre on alloy wheels. I would also be charged €3.00 per tyre to dispose of my old ones if required. So it would cost just over €400 to have a premium set of winter tyres fitted to a Golf using this website. Which really isn't bad. Plus, you could leave these on for the whole year without too much hassle.
The winter driving tips video we posted has had almost 10,000 hits since we put it up in earnest one snowy morning. Thank you for the comments that were added to it. Sure enough, there were a few tips that were left out and many of you added to these. Obviously we didn't include them all, simply the basics to get people going and lots of you have said that it did help. Of course, some of you didn't agree with the stuff that I put up and I might take the hump with that if I had in fact invented winter driving tips. The tips I posted weren't naturally ones that I came up with myself, but were mostly perfected by German, Swedish and Icelandic men with names like Sven, Erik and Hans. And in the greatest traditions of journalism, I simply relayed them on to you. And I have also sat in enough classes with these people to have a fair idea of what they were on about. The tips were and are designed for the nervous and perhaps novice winter driver out there. Those of you who know it all will of course not need to learn anything from any of us.
In relation to the Weiss Snow Socks, which have sold out faster than the Irish Government, they are pretty useful but remember they are limited. They only work up to a speed of 50km/h and I watched a driver of a Hyundai Santa Fe yesterday barrelling along at 100km/h on the M50 with them fitted, the front wheels spinning wildly within them. He may now be in a hedge somewhere.
Stay safe out there. Do consider winter tyres because 'climate change' appears to be among us and don't bother going anywhere if you don't need to.