irishtimes.com

- Posted: December 10, 2012 @ 11:55 pm
Patrick Moore, the Games Master
Ciara O'Brien
If you ask people who Sir Patrick Moore was, many will confirm that he was a famous astronomer. Others will identify him as the presenter of BBC show The Sky at Night, a show he fronted in an impressive run of more than 50 years, missing only one show due to a bout of salmonella. He wrote a book with Brian May on astronomy; he presented the Apollo missions, and covered the Pioneer and Voyager space missions.
Knighted in 2001, he helped popularise science.
But to a certain generation Sir Patrick Moore was something more: he was the Games Master.  The human/machine hybrid, a disembodied head that issued challenges to players and dispensed games advice in his "consoletation zone". It was compelling viewing for anyone interested in video games in the 1990s.
You listened intently to every tip the Games Master gave out on how to beat that tricky level.  You coveted the Golden Joystick that was awarded to the winner of challenges on the show. And you watched all the reviews to see what game would be next on your wishlist.
Games Master was one of the first TV shows dedicated to video games on our TVs, and it was the first UK show focused on competitive gaming. And Patrick Moore was a big part of that. Would it have worked quite as well if the Games Master hadn't had Moore's famous monocle? Or his distinctive diction?
There's some heinous hair in this clip, but it gives you an idea of what the Channel Four show was all about.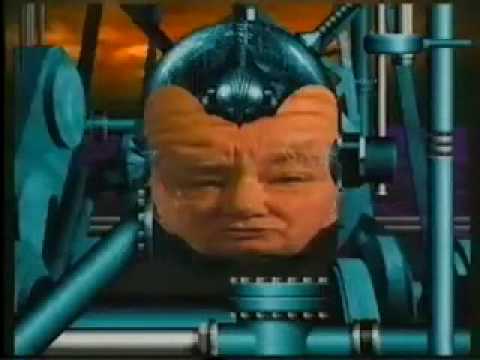 Sir Patrick Moore died at his home today at the age of 89. Writer, researcher, radio commentator and television presenter: he covered it all. And as Weebl reminds us, he also played the xylophone.