irishtimes.com

- Posted: October 6, 2011 @ 9:21 am
Steve Jobs 1955-2011
Ciara O'Brien
By now, you'll have heard the news that Steve Jobs, co-founder of Apple, died yesterday at the age of 56. Whether you view him as a visionary, a marketing genius, businessman, he leaves behind some shoes that are almost impossible to fill.
Counted among the greatest chief executives of a generation, Jobs is credited with dragging Apple out of near-bankruptcy and turing it into one of the most valuable companies in the world.
His death, although sad, won't come as a shock to many people. Jobs's health problems have been widely publicised in recent years; in 2004, he revealed he had surgery to treat a rare form of pancreatic cancer and had a liver transplant in 2009, before taking another round of medical leave in January this year.
At the end of August, he announced he was stepping aside as chief executive, saying he could no longer fulfil his duties.  Days afterwards, a photograph of a frail-looking Jobs was published, leading to further speculation about his health. And then there was his failure to appear at the unveiling of the iPhone 4S on Tuesday.
In the early hours of this morning, his death was announced by Apple, and a tribute now runs on the tech firm's homepage. Flags are flying at half mast in Cupertino, and already tributes have begun pouring in from public figures and business leaders. Barack Obama has called him a visionary. Bill Gates described working with him as "an insanely great honour". Sony CEO Howard Stringer said "the digital age has lost its leading light".
Jobs may be one of the greatest chief executives of a generation, but to many people, he was a lot more than that. Soon after his death was announced, memorials began springing up outside Apple's headquarters in Cupertino, and at Apple stores around the world.
It's hard to escape Jobs's influence, even if you aren't a Mac fan or have never picked up an iPhone. His fingerprints are everywhere.
The Apple II, for example, invented by Jobs and co-founder Steve Wozniack, was one of the first lines of commercially successful personal computers. You may never have laid hands on one, but it helped influence what came afterwards. It was so successful, Apple would make Jobs a multi millionaire before he reached 25 years of age.
The iPod was not the first digital music player on the market, but it became the most popular. The iPhone wasn't the first smartphone either, but it certainly helped drive interest in the sector, with the end result that many people now carry iPhones or Android smartphones.
The company has revolutionised the music industry, how we consume media, how we get online.
A rising tide lifts all ships, and with Jobs at the helm, Apple was certainly providing some momentum.
It could have all been so different though. In 1985, Jobs was forced out of the company he co-founded after a power struggle.
In his years away from Apple, he bought what would become Pixar studios and established another tech company, NeXT.
In the meantime, Apple's fortunes were waning. At one point, it was said to be weeks away from bankruptcy. But in 1997, Apple announced it had bought NeXT and Steve Jobs was once more back in the fold. He took over as interim CEO that year, and in 2000, he was again the permanent head of Apple.
When Jobs took over as interim CEO, the company had losses of $1.8 billion. These days, it rivals Exxon Mobil as the world's most valuable company. And in the intervening years, it has had numerous successful product launches – the iPod, the iPhone, the MacBook Air, the iPad, among others. Jobs was widely credited with influencing the creation of them all.
As head of Apple, Jobs was a cult-like figure who inspired a level of devotion from employees and customers that most CEOs only dream of, a situation that was parodied by The Simpsons using "Steve Mobs". He became almost indistinguishable from the company he helped found. Think of Apple, and Steve Jobs springs to mind.
His keynotes were watched avidly; his departure from the company something that had investors understandably nervous. Six weeks ago that finally happened.
And like most of his life, Jobs's passing has been kept a private event.
Apple's statement:
"Steve's brilliance, passion and energy were the source of countless innovations that enrich and improve all of our lives. The world is immeasurably better because of Steve. His greatest love was for his wife, Laurene, and his family. Our hearts go out to them and to all who were touched by his extraordinary gifts."
His family also issued a statement, appealing for privacy:
"Steve died peacefully today surrounded by his family.
"In his public life, Steve was known as a visionary; in his private life, he cherished his family. We are thankful to the many people who have shared their wishes and prayers during the last year of Steve's illness; a website will be provided for those who wish to offer tributes and memories.
"We are grateful for the support and kindness of those who share our feelings for Steve. We know many of you will mourn with us, and we ask that you respect our privacy during our time of grief."
The personal tragedy is his family's, his friends' and those who knew him.
For the rest of us, the loss of Steve Jobs means, as others have said, the loss of a visionary, a great businessman and someone who was fascinating to watch.
I'll finish this with Jobs's commencement speech at Stanford in 2005, one of the most inspiring speeches I've seen.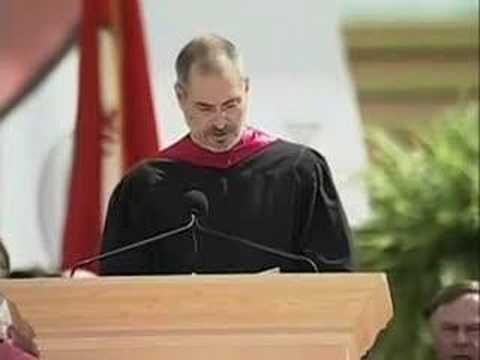 You can email your thoughts and condolences to rememberingsteve@apple.com