Review: LFW day five
That's all folks – but not before Simone Rocha has her say on spring 2014
Aaaaand breathe. It's all over for another five months in London – although let's not forget Paris and Milan to come – and head of the BFC Natalie Massenet can take a long-deserved break (although one suspects breaks aren't high on Massenet's priority list).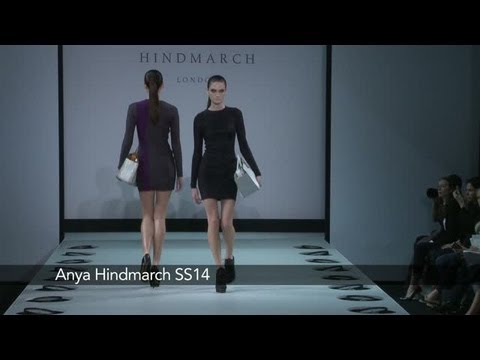 The final day of London Fashion Week kicked off with one of the season's most talked-about shows at 9.30am, thanks to the clever little planetary invitations sent out by Anya Hindmarch for her S/S 2014 accessories collection. The astronautical theme carried through to the show, where bags began to lower themselves from the ceiling before stunt women began to somersault through the air. In the collection, too, were hints of the space-age: deep, metallic colours in planet-shaped clutch bags and gorgeous, earthy tones in python-skin bags.
Next up, a presentation by Stella McCartney for her Adidas by Stella McCartney range, which turns eight this year (can you believe it launched in 2005?). Models cycled on stationary bikes, ran on treadmills and even did anti-gravity yoga – and that's all before we get to the models in tanks, showing off the latest Adidas by Stella McCartney swimsuits. They proved it was functional, but it was also fashionable – with graphic animal prints, floral prints and bright yellows and oranges, as well as distinctively "street" wear in the form of cuffed tracksuit pants and sleeveless hoodies.
After Stella it was the turn of our own Simone Rocha, whose A/W collection has been single-handedly credited with making Barbie pink the colour of the season. Rocha was inspired, for her A/W collection, by Connemara – and it seemed that it wasn't just the landscape that took hold, but the culture. Models emerged in mostly monochrome, taking their cues from mourning or communion, with punches of moss-green and gold. Pearls were used with aplomb, in more traditional chokers but also adorning knee-high socks and decorating skirt hems. Rocha played on the catwalk tradition of closing with a bridal look for her finale, where models emerged swathed in lengths of cream tulle. It was a romantic and sensuous collection, grounded by her use, again, of flat brogues and, this time, stylised punk mohawks.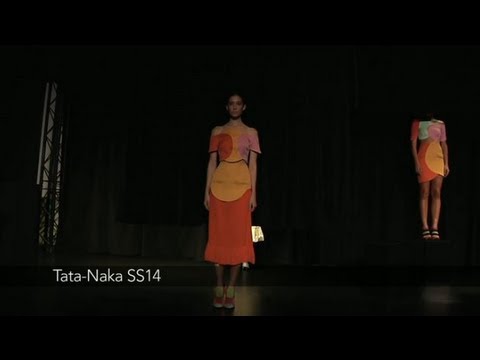 From Rocha's monochrome vision of the West of Ireland it was straight to the Ballets Russes for Tata-Naka's S/S 2014 presentation (11.30am-1.30pm). Shapes were classic, with Russian influence – full skirts and bell sleeves – and colours were bright, bright, bright. Burnt orange, red and yellow mixed with blue and white shouldn't have worked, but did – it was a vibrant, fun collection of party dresses and separates. The busier prints are definitely the most wearable parts of the collection, but overall it was a brightness that next season's pretty pastel vision definitely needs.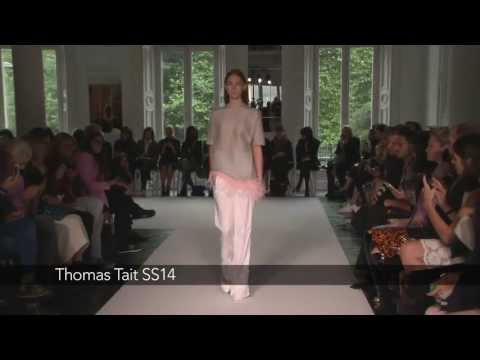 It was back to white on white for the opening of Thomas Tait's midday show, the start of a collection that showed a strong flair for chic minimalism. In terms of trends, Tait's show ticked all of the boxes: the aforementioned white on white, volume in the form of boxy, flowing tops; sporty accents in zipped-up jackets and loose-collared blouses. Colour was seen in the sporty zip-throughs and later in bright coral and lemon yellow feather trim on Armani's signature greige – and perhaps it's the fifth-day fatigue but it felt as if something more was needed to truly push Tait's collection into the limelight.
Harry Styles turned up again on the LFW radar, this time at Fashion East in the Topshop showspace, for collections from Ashley Williams, Claire Barrow and Ryan Lo. And don't be tricked into thinking these collections, placed together by the non-profit initiative that mentors and champions emerging designers (founded by Lulu Kennedy), have anything in common other than their umbrella: while Williams' vision was an homage to 1980s Americana, Lo's girls wore mouse ears and face paint, dressed up in a kitschy, cartoony array of sugary-sweet girlishness - in stark contrast with Barrow's alternative, punk parade.
As the day wound down, it seemed reflected in the minimalism of Emilio de la Morena's S/S collection at 2pm. Colours were neutral with the odd black or blue insert, with tailoring and draping the order of the day – which resulted in de la Morena's collection seeming oddly divided, between hard and soft, fitted and loose. With spaghetti straps (again), patchworked tops and cropped straight-leg pants, the collection could have seemed slightly dated if it weren't for the inclusion of metallic fabrics, which lent it a modern edge.
Did you know that Elizabeth I only wore black, white, red and gold? Well Benjamin Kirchhoff did when he and Edward Meadham were looking at references for their S/S 2014 show, which took the 3pm slot yesterday. Meadham Kirchhoff are no strangers to high camp – their shows always take place with a certain degree of fanfare (remember A/W 2012?) – and yesterday was no different, with the catwalk transformed into a foreboding garden of unearthly delights. But there was no sense of foreboding in the collection itself – a playful, joyous, incredible, artful mish-mash of cultural references. Wearable? Perhaps not. But Meadham Kirchhoff is what fashion – not clothing – is all about.
Emma Thompson sat front row at Maria Grachvogel (4pm), where "floaty" was the keyword in a collection of grown-up and utterly beautiful pieces. Jumpsuits in loose, billowing silk sat alongside floor-length dresses that were more garden party than red carpet, and prints were as understated as the colour palette, in duck-egg blue, slate grey, cement, sand, khaki and soft blush tones. Beautiful.
Brigitte Bardot's almost-constant state of undress in the film Le Mepris was the inspiration for Lucas Nascimento's S/S 2014 collection, shown at 5pm yesterday evening. In that context, the models' appearances – they all looked a little like they'd been pushed on to the catwalk before they were done dressing – makes sense, but without the reference it seemed like a slightly drab, unfinished collection of minimalist separates. Sure, there were high points: the layered shift dresses were beautiful, and drew to mind careful paper origami. But overall, it seemed as if a quick tidy-up would have done a world of good.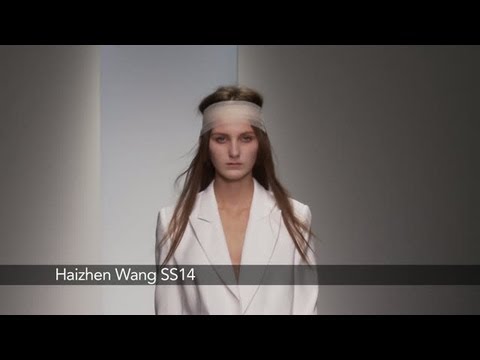 London Fashion Week closed on a high point – with a slightly Xena-esque collection from Haizhen Wang. The warrior princess vibes were, of course, down to the headbands and those army-like boots, but the collection itself was super-cool - waistcoats were belted and worn with loose, tapered trousers; shift dresses were layered under sleeveless bikers; a leather shift dress stood alone, with those great boots and the gauze headbands. Colours? Monochrome, metallics and a cool, earthy slate blue.