Review: LFW day four
It was all eyes on Burberry on day four of shows at London Fashion Week, with bonus Peter Pilotto and Christopher Kane
Nasir Mazhar S/S 2014. Images via Getty Images
I always feel a bit sorry for the labels who show on Burberry day. Because that's what yesterday was: Burberry day. It seemed as if Twitter, Facebook and Instagram were on fire from around 9am, awaiting the arrival of "top celebrity X" to the Burberry catwalk in St Regents' Park, and it didn't calm down until the 2.30pm show was over. We'll get to that in a while, though – let's start at the start.
Antonio Berardi kicked off proceedings with what show notes termed a "more laissez-faire" collection than previously. It wouldn't be too difficult for Berardi to relax his designs – we're talking high glam dresses much beloved of red-carpet-frequenting actresses. What we got, yesterday, was a collection of luxurious separates (with the odd red-carpet-worthy gown) in glamorous fabrics and metallic sorbet shades. Still on the very dressy side for most mere mortals, but a little more 1980s glam (think loose pants, flowing fabrics) than 1970s.
The Roksanda Ilincic show (9.45am) offered us the same buttery sunshine yellow that we've seen popping up in several S/S 2014 collections, in the Ilincic signature of strong shapes, bold lines and full, feminine dresses. Horrifyingly, she presented dresses layered over skinny trousers (please say I'm not alone in hoping this trend never returns) and midi dresses with flat, boyish brogues (which will flatter no one) – but overall, her vision for S/S was very cool and (mostly) very covetable.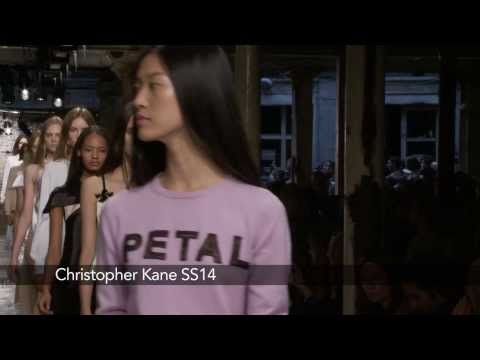 It was a floral story for Christopher Kane at 10.30am, where he used floral motifs in abstract, hyper-modern ways for a theme that ran through the whole collection. Petals were blown up and plasticised for peep-hole details in otherwise simple and chic dresses; later, stamen drawings were printed on slip dresses with spaghetti straps (another worrying S/S trend right there); later still, Kane got playful, with sequined floral appliques and the words "FLOWER" and "PETAL" emblazoned on tops and dresses. While it lacked the street-style-star appeal of previous collections (remember the nuclear explosions of 2009 / 2010?), it was an array of beautiful pieces that demonstrated, perhaps for the first time, Kane's subtlety under fire.
Post-Kane, it was time for Marios Schwab (last seen designing an Edition range for Debenhams) at 11.30am, and a collection entitled "Contours". When a designer who's renowned for his sexy dresses calls his S/S 2014 contours, you'd be forgiven for expecting bodycon of the highest order. Instead, what we got was a study in the contours of the body – shift dresses with airbrushed contours, flowing skirts and metallic blouses. And backpacks! Not something you'd expect from Schwab, but no less welcome (a bit like Anouska's white backpack, which can be no bad thing).
At 12.30pm, Erdem presented his S/S 2014 collection – always one of the most hotly anticipated shows of the schedule (despite the Burberry frenzy). Usually one for subtle floral prints (and lots of lace), this collection was entirely monochrome, an unusual move for spring but one that worked really well for the Canadian-born British-Turkish designer. Sheer black dresses were layered over white buttoned-up shirts while Erdem even produced a biker jacket – in black lace, of course. And on the frow? Sam Cam, making her first LFW appearance.
At 1pm, British designer Nasir Mazhar unleashed his clubbing kittens on the Topshop show space, and the true story of London Fashion Week unfolded before onlookers' eyes. Including women of all sizes and races, with tattoos and piercings and (!) leg bruises, Mazhar's inclusiveness highlighted the exclusivity of the catwalks that came before. His clothes – items suitable for Rihanna at an East London rave – were less of the story than his commentary. Models chatted on phones or snapped selfies while teetering on Lucite stripper heels. There were elements of Lolita, of Barbie, of Bratz dolls and of Miley Cyrus (check out the tongue show). Whether we like the collection or not, there's no denying that Mazhar hit the zeitgeist on the head with this one.
Marques'Almeida took a trip down memory lane in their 1.30pm show – although not that far, just to the noughties, when low-slung jeans and tiny tube tops were (fleetingly) in fashion. It was a show that started off firmly in "meh" territory; frayed jeans and tops fashioned of strips of silk, with an Obi vibe that could definitely have been accidental, but things picked up halfway through, with some beautiful cow-hide dresses and some slick tailoring. Glass half full – but only barely.
Finally, it was time for Burberry – with a frow that included Harry Styles and Sienna Miller – in the glass greenhouse of St Regent's Park that has become the label's second home. The words on the street are "pastel perfection" (we love alliteration, us journos) – Christopher Bailey sent models down the runway in sugary sweet colours: there were sheer dresses and blouses, fabrics with shiny, metallic thread, floral appliqués and, of course, those belted macs. It was so very beautiful – and so very Burberry – but I couldn't help but feel like the fashion house's collaboration with Apple (everything Burberry did yesterday was "on the iPhone 5S") cheapened things a bit. What can I say? I'm a purist.
Michael van der Ham has become renowned for his patchwork creations, and for S/S 2014 he stayed true to that signature with a collection of chic, ladylike pieces. Emphasis was firmly on the clothes – models' hair was slicked back into low ponytails, there were no accessories, shoes wouldn't have looked out of place on the Monday morning commute. Trend-wise, there were more spaghetti straps, but van der Ham's clothes really stand alone and are – dare I say it – almost inimitable.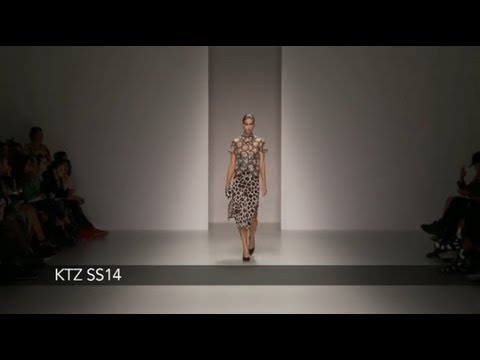 The second culture-shock of the day – after Nasir Mazhar dared to put real women, bruises an' all, on the front lines of his S/S 2014 presentation – was at KTZ. What started out as a study in texture and form, with flowing dresses and jackets layered over metallic leggings, soon turned into a multicultural dance party, with models storming down the runway in hijabs, wearing hamsa hands (something that we perhaps should have seen coming in the Star of David-alike motifs on earlier outfits).
Next up – or, rather, running parallel – was a presentation by Pringle of Scotland at the Connaught Hotel. It was a perfectly lovely presentation, with the brand's heritage knits taking centre stage, and a colour palette of whites and off-whites set against a true blue. The brand's London store opening, hosted by Tilda Swinton, took the shine away from the presentation, mind you. (Tilda! <3)
It was a good day for Peter Pilotto. Not only did the brand, designed by Pilotto and Christopher De Vos – show its S/S 2014 to predictably high acclaim, it also announced a partnership with US superstore Target, to be sold exclusively in Europe on Net-a-Porter. Not too shabby. The collection itself was a riot of colour and shape, the trademarks for which the duo has become known. Clothes worth saving up for.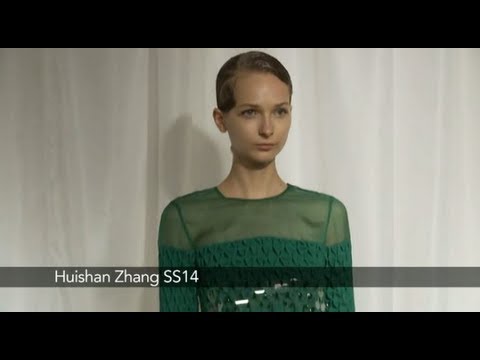 Grass green was the colour of the day at the Huishan Zhang presentation (5pm-7pm), with the first wave of models emerging in variations on a green: smart separates were pleated in geometric shapes, with large transparent sequin appliqués giving a subtle sparkle. When the models changed over, however, we moved into a monochrome vision with coral accents: broderie anglaise and lace accents were placed atop of and beside those geometric pleats. It was a garden party with a mathematical edge: pretty and calculated.
Osman (5.30pm) opened and closed with all-white numbers, showing a collection strong on tailoring and weak on opacity; it would seem that London wants us all to be showing some skin this time next season. Assymetric skirts, for once, looked fresh and new – and, crucially, cool – while a one-shouldered dress with metallic print would make a perfect wedding outfit for the well-heeled guest (or even better-heeled bride). It was a heavily monochrome collection, but, unlike Erdem beforehand, Osman did add in a few coloured accents – just not very many.
There were bats, ballgowns and blush-coloured pouts at Giles's 6.30pm show, where Cara Delevingne and Georgia May Jagger were among the models in the line-up. I tend to put Giles in the House of Holland bracket: fun, flirty, young, very London ensembles that will find favour in the under-25s, and this collection wasn't much different. Flirty prom dresses worn with bright white runners called to mind Lily Allen's earliest incarnation, and the lip-print dresses felt a bit done (by Anya Hindmarch, to name but one).
If London Fashion Week this season has been about one thing it's been about femininity, albeit a slightly disco version – sheer, floaty fabrics with metallic threads; floral motifs with sequined appliqués; spaghetti straps and A-line skirts. So it shouldn't be too surprising to hear that Tom Ford (7.30pm) went against the grain with his version of super-sexy 1970s disco-wear, showcased in a mirrored room with black carpets. Sex is Ford's signature, and it was in evidence here, hyped up on metals and hints of bondage.