Review: LFW day three
On the third day of London Fashion Week, Emma Hill said goodbye to Mulberry and Topshop showed a stellar Unique collection
Frow at Mulberry. Images via Getty Images
The Preen by Thornton Bregazzi lady is, without a doubt, everywoman (and an early riser, with a 9am showtime). Starting out, she was a very sombre, almost pared-back vision of efficiency in sleek tailoring with yet another white-on-white outfit and a particular strength in LMDs (little multi-coloured dresses). But things soon relaxed, with strong sportswear vibes in the form of billowing printed bombers, and strong origami lines not dissimilar to those at David Koma the day before. Shoes? This time by Sophia Webster, following last season's successful Aldo Rise collab.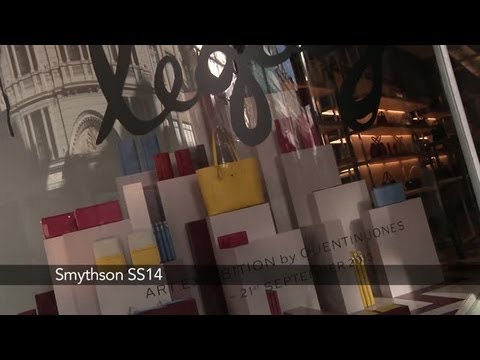 Smythson's S/S 2014 collection presentation, from 9.30am to 2.30pm, looked a whole lot like a walk through a shop, but that shouldn't detract too much from a strong selection by the British heritage stationer and leather goods label. Strong shapes in simple colours included tote bags (very Céline), passport covers and wallets in a gorgeous bronze metallic leather.
Next up, Margaret Howell with a S/S 2014 collection that, as noted by Fashionista, had more than a shade of Gwynnie's Talented Mr Ripley character in it. Very 1950s in terms of skirt shapes in particular, with some lovely, clean and simple pieces: pleated skirts, smocked shirt dresses and those hats. Howell's simplicity is often seen as her trademark, but I couldn't help but wonder if you could get the Howell effect by raiding some charity shops (and your Mr's wardrobe).
It was Manolo Blahnik's first time on the London Fashion Week schedule, and the designer told Vogue that he was nervous about it – something that seems particularly strange coming from the man whose name became legend thanks to its frequent uttering in Sex and the City. Like Preen before him, Blahnik showed a wide variety of footwear choices for a wide variety of women in a presentation from 10am to 4pm. The standout numbers were brightly coloured and embellished, but a pair of soft leather driving slippers are firmly on my fantasy wish list.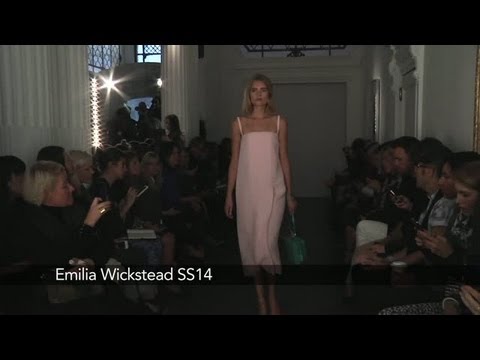 Blahnik also provided the shoes for the Emilia Wickstead show at 11am, which was a bit like a collection made specifically with Michelle Dockery or the Duchess of Cambridge in mind – full skirts on fitted dresses with demure necklines. Of course, there were elements of whimsy: a watermelon sorbet stripe made a welcome break from the block pastels, and the notion of volume was taken to new heights in billowing dresses with mullet hems. Bonus point for the seriously dodgy walk on model # 2, who looks a bit like she's walking in a Dizzee Rascal catwalk extravaganza.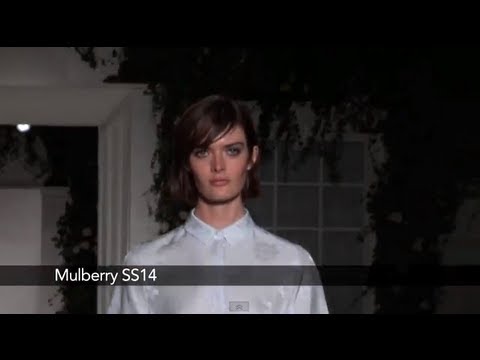 It was Emma Hill's last day as creative director at Mulberry, which had its show at 11am in Claridges, and it was a great final show for her – a strong collection that really showed what the Mulberry girl is all about: classic shapes with a nod to ideas of traditional "Britishness" (this time, in the afternoon tea theme of the show), accessories, leathers (shown, surprisingly for S/S, in a black colourway in matching culottes and shirt) and, of course, a dog – named Turbo.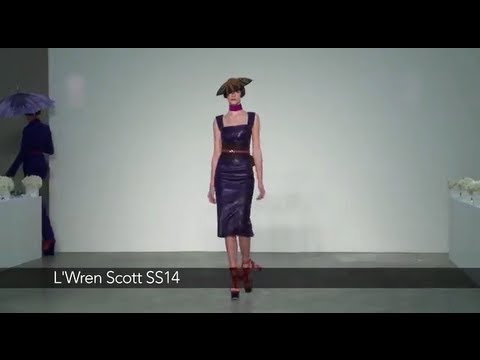 When a designer is as well known as L'Wren Scott (1pm), it's tough to separate the clothing from their maker – but in the case of Scott, it would seem that she doesn't want you to, kitting the models out in mega-platforms by Brian Atwood that brought them up to 6ft 3in, which Scott says was done to make them taller, even, than her. The clothes, too, were very Scott in aesthetic, with a Japanese twist – in the form of prints, parasols and obi belts. WWD thinks it fell on the right side of costume, but I remain unconvinced.
At 2pm, Temperley London arrived to show us all what the Duchess of Cambridge will be wearing next season – except she won't, and it didn't. While previous collections have been a little predictable (beautiful, but predictable – lovely, nice, girly), this was a showstopper that had social media alight with praise for Alice Temperley. The Temperley woman was there, without a doubt, but while she maintained her ultra-feminine trademark, she had a harder edge and, dare I say it, a cooler outlook. I would defy the Duchess to show her mettle in one of these floral appliquéd gowns, where leopard print and floral mixed to great effect, and black came back in some stunning evening gowns. Watch the video here.
Sophia Webster's girls had fun in her S/S 2014 presentation at the Topshop show space (2.30pm to 4.30pm), blowing kisses at the cameras and waving their legs in the air. Detail was key here, with ladybug-style hairdos and super-cute nail art courtesy of Revlon – and the shoes, of course, were centre stage. Bows were crafted in sheer fabric reminiscent of insect wings, while knee-high lace-up boots brought butterflies to mind, all antennae and bright colours. The hot news, of course, is that Webster will soon collaborate with fashion insiders' favourite, J Crew.
Topshop Unique's vision for S/S 2014 was of a safari garden party, with models in loose, silk pyjama-style separates walking down a grass catwalk. As usual, Unique's show was big, with a wide variety of themes and prints: sunflower yellow made an appearance, as did moss green, with some 1970s-style prints not unlike Diane von Furstenberg's, and soft palazzo pants that wouldn't look out of place in Studio 54.
The luxe loungewear vibe was carried through in the Paul Smith show at 4pm, with chic loose, mannish suits taking a traditional Smith signature and opening and loosening it up. Shirts wouldn't have looked out of place on a menswear catwalk, but here they were left open: sexy and insouciant. Slightly Miami Vice, too, with tropical prints and lemon yellow – all topped off with chocolate-brown panama hats.
By Vivienne Westwood standards, yesterday's Red Label show (5pm) was positively restrained – but, Westwood being Westwood, there must be a subversion somewhere, and it showed up in the models' make-up, pale and bloodied, like extras from The Walking Dead. Westwood's trademark ginghams and corset-style jackets and dresses were there, but one gets the impression that Westwood, who sent one model down the runway in a slogan tee that read "CLIMATE REVOLUTION" is no longer in it for the sales. In fact, she spoke to the Telegraph saying: "Don't invest in fashion. Invest in the world."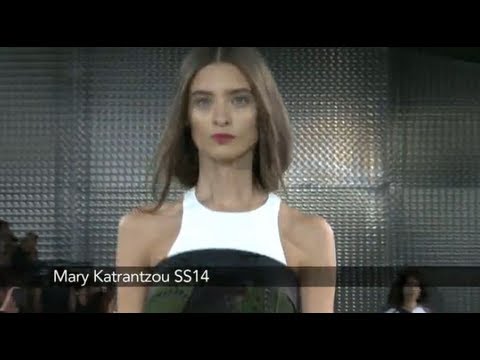 Après Vivienne, it was the turn of the fashion world's most exciting new names: Mary Katrantzou (6pm). The past few years have seen the princess of print join forces with Current / Elliott for a denim collaboration, produce a sell-out capsule collection for Topshop and even partner with French outerwear label Moncler for a collection of printed outerwear. So it's safe to say that her signature is fairly well embedded in the fashion world – until, that is, she comes up with another exciting, energising, innovative and unexpected collection, such as that of yesterday – multi-coloured rainbow prints that found their origins in shoes, magnified until they were almost unrecognisable. Genius? Yes. Beautiful genius? Undoubtedly.
With three to go, Matthew Williamson (at 7pm) is always a pretty, well, "pretty", collection, although not since Sienna made him cool in the early noughties has the fashion world found much to get excited in the British designer. But it seems that Williamson has made a slight move away from the hot party girls of yore; though Liz Jones at the Daily Mail described these as "hot clothes for party girls", I would describe them more as cool clothes for party girls. My particular favourites were fitted dresses with tulip skirts, high-waisted skirts with loose blouses (very Paul Smith of a few hours previously) and the appliquéd dresses that were like a more relaxed version of those from Louis Vuitton last season.
Jonathan Saunders' S/S 2014 collection (at 8pm, bless his cotton socks) was a study in contrasts, from the Western-style tricolour suede jackets that accompanied the opening numbers to the soft, feminine skirts and dresses of the show's latter half. Again, there was that 1970s vibe in the form of dark-lensed sunglasses; shades of schoolgirl in those suede jackets; and hints of housewife in soft, nearly-buttoned cardigans over flippy, A-line skirts. But if the Saunders woman is Stepford in tone, she's Stepford on acid – and all the better for it.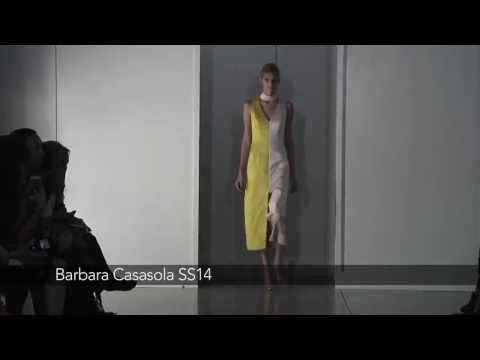 It was Brazilian Barbara Casasola's debut appearance at London Fashion Week for this, her fourth collection. Casasola told Vogue that her collection was inspired by a hostess playing dress-up before the party, but it's clear that the Casasola woman was very comfortable in her get-up. It was a demure collection that was somewhat beautiful in its pared-back simplicity, but underwhelming on a day so packed with colour and fun. Perhaps Casasola's late showing was to her detriment, but it will be interesting to see where the Central St Martins trained designer will go next.