Review: LFW day two
John Rocha was the Irish highlight of the second day at London Fashion Week, but Orla Kiely and Zoe Jordan also showed strong collections
House of Holland S/S 2014; all images via Getty Images
Gosh but the days just seem to fly by, don't they? While the fash pack were rushing from show to show on day two of London Fashion Week S/S 2014, I was busy catching up on John Rocha on the live stream and, um, watching three seasons of The Hills, back to back.
Zoe Jordan opened day one with a show that she described as being for "this skater girl, grown up". The show kicked off with a blush-pink leather jacket that will surely be imitated by the dozen come January / February, and continued in similarly luxurious fabrics in a soft palette, drawing to mind lazy, hazy summer days. I'm as impressed as Elle magazine was with the collection: infinitely wearable and very, very covetable. The one caveat? Quite a few of the models Jordan cast for her show were visibly underweight (check out the video). Try harder next time?
The girls at Sister by Sibling (10am, while I snoozed) smiled as they made their way down the catwalk in an over-the-top Fun (with a capital F) collection of high-colour swing dresses, slogan tops (one of which said, fittingly, "HAPPY") and swing coats. We were promised a trip to suburban, post-war America – but this was a vision of feminine rebellion, with the girls enjoying (to the max) their newfound independence and sense of industry. The bad news? Short shorts just got shorter.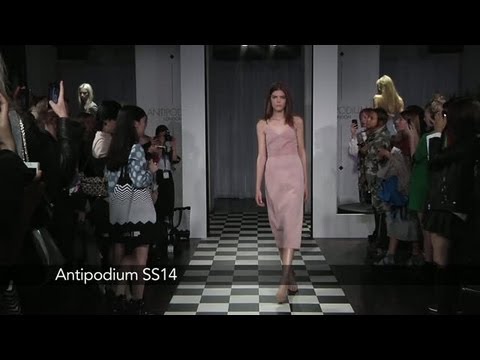 Meanwhile, at Antipodium, the girls were all grown up (and not a smile to be found), sloping lazily down the catwalk to a standing crowd of press and buyers. Geoffrey J Finch, the brains behind the label, described the collection as "confident simplicity, subverted classics and a hint of kink" – evident in the clean lines of A-line skirts, pleats and tailoring, all jazzed up with modern metallics and, in several cases, entirely sheer fabric.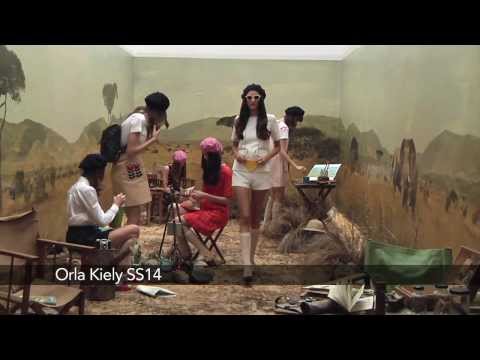 It's worth watching this video, from the Orla Kiely presentation that filled the late-morning slot, just to get a proper idea of how mad fashion week can really be. Instead of a catwalk, Kiely placed her models – quite literally – in a box, on virtual safari, like a modern-day Enid Blyton novel. Mallory Towers on Tour, perhaps. In keeping with Kiely's kitsch aesthetic, we're talking girly silhouettes, miniature prints on fabric and bright, girly accessories.
If you were following the #LFW hashtag on Twitter yesterday, you'll have seen the buzz surrounding Holly Fulton's midday show (before the Irish Twittersphere had a collective John Rocha-related orgasm). Fulton's inspiration came directly from the 1970s, evident not only in the prints that ran through her entire collection but in the hair, the sunglasses and the skirt shapes. It was a high-fun, high-fashion collection that moved Fulton along from her cutesy, kitschy prints and towards something grown-up and a hell of a lot more commercial – in the best way possible.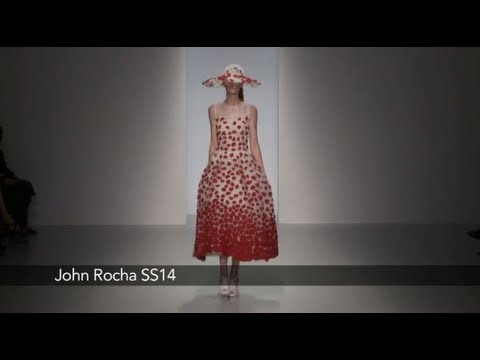 Then came John (1pm). Ah, John - the first of two Rochas that will excite and ignite LFW this season. Let's get this out of the way first: I'm ignoring the hats. Though the artistry therein is undoubtedly incredible, the hats themselves speak of frighteningly large visors to come and so, are best left aside for as long as possible. It was a romantic, dramatic, entirely John Rocha collection – heavy on shape and texture, in his trademark monochrome-and-red palette, with bonus floral prints. Breathtaking.
Perhaps we can blame Kelly Brook, but Julien Macdonald has become, let's face it, a bit of a laugh – famed for his appearance on Britain's Next Top Model and for producing entirely WAG-ish dresses, heavy on sequins and sheer panels. It was no surprise, therefore, to find Abbey Clancy on the frow, and her appearance was the first in a long line of non-surprises in the 2pm show. Dresses for ice dancers.
David Koma's 3pm show, then, was a relief – all sharp lines, sharper tailoring and Japanese-inspired shapes in block colours. Placed side by side with Macdonald's 1980s-era Dynasty-wear, Koma's collection (what have the Kardashians done to me, that I wanted to write "Koma's collection"?) seemed all the more modern.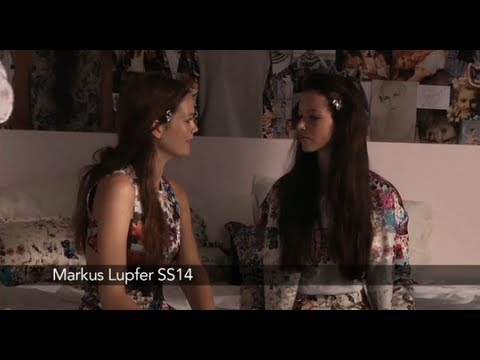 Markus Lupfer presented his vision for S/S 2014 (3pm-4.30pm) in the surroundings of a teenage bedroom, complete with pink guitar and hamburger telephone. His trademark sequined knits were there, but alongside them were gorgeous patchworked floral silk shorts and tees, dresses and skirts, and seemingly oxymoronic white floral prints. It worked really well for the designer, who's become something of an idol for cute, quirky teenage pieces (for grown-up wallets).
Next, another Irish export, in the form of JW Anderson, a show the Guardian described as "arguably the first major event of the week so far". There were almost hospital-gown-like dresses, sheer fabrics and origami-style leather numbers. These weren't the kind of clothes you'd wear to, well, anywhere, but with LVMH sniffing around, it doesn't look like anyone cares.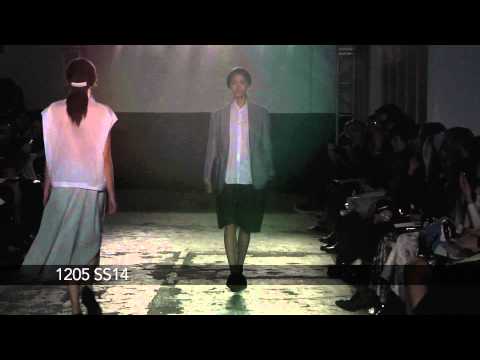 Yesterday was Savile Row-trained Paula Gerbase's London Fashion Week debut, with her line, 1205. Gerbase, who said she wanted to produce items of comfort and ease, showed a Cos-alike selection of masculine tailoring in the form of loose separates. Nice, but nothing much to write home about – items are definitely wearable, but it will be interesting to see what Gerbase does next season.
I've loved Ashish ever since I saw their Dorothy and the Wizard of Oz inspired collection a few seasons ago – but I'll admit that it feels as if the brand needs to move on slightly from their sequined streetwear aesthetic. Then again, maybe it's enough to have a strong, trademark look that resonates with a certain generation. And the politics of this collection were clear: a commentary on our obsession with distressed and damaged clothing, juxtaposed with high-shine sequined embellishment and set against a backdrop of consumer culture, evident in the sequined Tesco-rip-off shoppers (DISCO, anyone?) in the models' paws.
One brand that definitely did evolve this season is House of Holland, a label that has seemed stuck for far too long in the hip, London-girl aesthetic embodied by designer Henry Holland's frow pals, Pixie Geldof and Agyness Deyn. Instead of producing a collection of only-for-the-youngsters shorts 'n' crop top combos, Holland showed up with a mature collection of ladylike pieces in beautiful fabrics – shirt dresses, loose shorts, boxy short-sleeved collared T-shirts and some beautiful, romantic prints. That said, the London set has nothing to fear: there was still plenty for the hipster at heart in the form of trucker caps, oversized gold hoops and religious iconography. And for the celeb-hunters, too: Harry Styles and Kelly Osbourne showed up on the frow.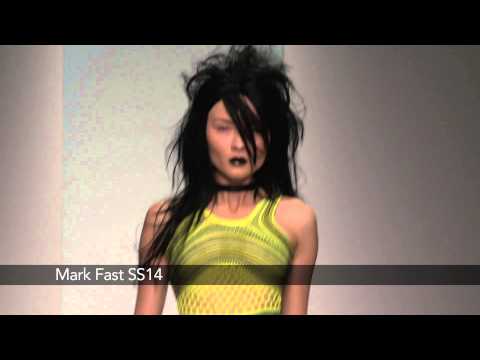 At certain moments, Mark Fast – propping up the end of the day with a 7pm show in Somerset House – didn't cease to disappoint, holding on to his title as knitwear king with a collection of bodycon knits inspired by 1990s grunge. But at other moments it felt as if the medium itself held the power; at the joins between colours, models' bodies were squashed and restricted by the knit itself, giving a lump appearance to several skirts towards the opening of the show. But towards the end, he redeemed himself; a floor-length gown with what looked like horse hair skimming the ground was show-stopping.
It was a strong end to day two with a great collection from Richard Nicoll (8pm). White on white opened a show that was refreshing in its stark simplicity, all the way down to the models' slick, low ponytails and those incredible ankle boots, designed by Manolo Blahnik for Nicolls. If the Nicolls girl is a tomboy, she's one with a high-flying office job, oodles of sex appeal and a shoe collection that would put Jenna Lyons to shame.