Review: LFW day one
The rain did little to dampen enthusiasm on the first day of London Fashion Week, where Bora Aksu's rainbow collection opened five days of shows
All pics via Getty Images. Image above: Jasper Conran S/S 2014
London Fashion Week kicked off yesterday in what was, by all accounts, a grim and rainy Friday, opened with Bora Aksu's multi-coloured ode to Turkey.
From there, it was but a hop, skip and a jump to Fyodor Golan's reinterpretation of sportswear - in luxe fabrics with a birds-of-paradise twist in the form of multi-coloured feathers and the crowns of the models' hair coloured in distinctly avian hues.
Felder Felder followed (Friday was really a day for the young guns, with nary a heritage name to be found in the line-up), showing an aquatic-themed, dress-heavy collection. Models' limbed were oiled and shiny, while hair was wet-look and pushed back from the face, giving the impression of mermaids – albeit slightly grumpy ones, with very long legs and determined struts.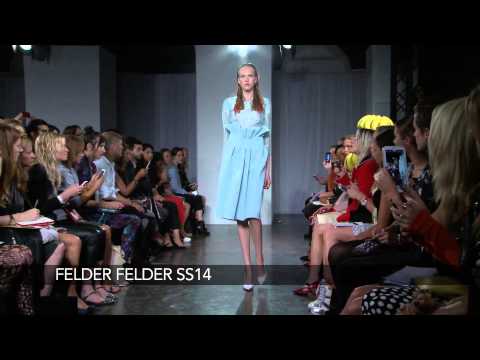 This video is great for several reasons: firstly, you can see the moment the models backstage are told to slow down and begin to walk like drunken babies attempting to navigate a straight line; secondly, everyone looks roasting, which is a certain comfort to those of us stuck at home; and then, and possibly most importantly, how delighted – and relieved – the Felder girls look when they take their bow.
At midday, it was the turn of J JS Lee – a show that opened with the same bubblegum pink shades that Bora Aksu had made such great use of that morning. In a fashion quiz, you could be forgiven for thinking this an A/W collection, with the use of leathers, monochrome and oversized, boxy jackets – but the fresh, mint greens kept it spring-appropriate, while said boxy silhouettes, metallic fabrics and the oversized sleeveless blazer (a key look for spring, if NY and London are anything to go by – and they are) kept things firmly in the S/S 14 arena.
Pearce Fionda is a label we haven't seen much of on the catwalk - in fact, the duo, Andrea Fionda and Reynold Pearce, are back from an extended LFW hiatus. In a way, it's not difficult to see how they might not fit in London – their collection was more New York in style, all show-stopping red-carpet glamour, inspired by the 1920s and 1950s (could those silk trousers be a sign of things to come on Downton?). It was also show # 2 for Clara McSweeney, last seen at Bora Aksu in the morning.
Oh, as a by-the-way: Ostwald Helgason also held a presentation yesterday, of the S/S 2014 collection we saw in New York. Still gorgeous, but let's not rehash the past.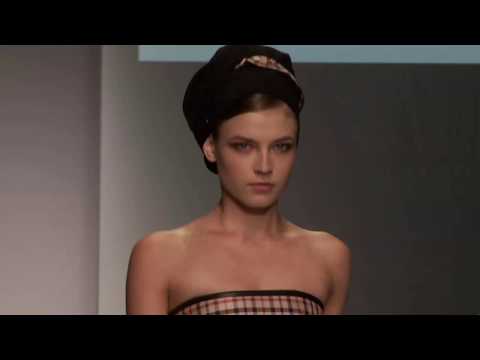 2pm and it was time for Daks (lunchbreak? Darling, fashion lunches for no man) in the Courtyard Showspace at Somerset House. Usually one to rely on for heritage checks and traditional shapes, this show was confusing, to say the least. Take a look at the full thing (above). It looked – with the oversized earrings, hair wraps and giant sunnies – like a resort collection, but with black capri pants and a leather mac in the mix, it was hard to see which yacht you'd take your Daks wardrobe on. Ellie Pithers in the Telegraph spoke to an international buyer who reckoned Daks' S/S collection might have the Far East in mind with its aesthetic.
Christopher Raeburn (3pm), to be clear, is not a trend-led designer. His are not, generally speaking, designs you will see in your local Zara or Warehouse, come February. His big mission is re-appropriating fabrics, using sustainable materials and basically making clothes that will last – in his first collection, he produced a series of outfits made of old parachute fabric.
His S/S 2014 collection was called Mirage, and looking at the designs, it's easy to see why – softly printed and patterned fabrics, hues that were reminiscent of Desert Storm stills and proper, functional rucksacks that wouldn't look all that out of place in a covert military operation.
The first blooms of spring were in evident at Eudon Choi's 4pm show, an infinitely wearable collection of slick, sleek separates (with a few slightly dodgy dipped or asymmetric hems, my personal fashion bugbears). The floral motifs carried through the collection were also beautiful, understated (insofar as floral prints can be) enough not to be garish or OTT. This makes me very excited to see Choi's capsule collection for River Island, which is launching on September 26th.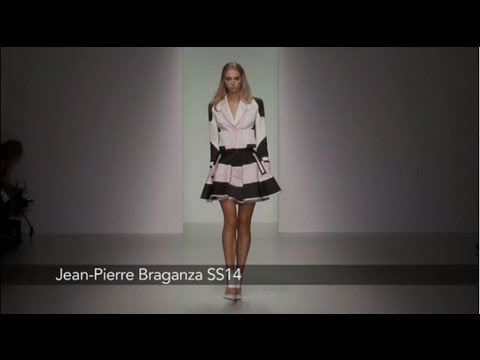 Jean-Pierre Braganza's S/S 2014 show (at 5pm, gosh but the fashion press must have been starving by then) was a study in contradictions: girly, tough, chic, urban, oriental and sporty, all at once. We had origami folds paired with sporty stripes; loose, capri pants (very Victoria Beckham), floor-length dresses (at least in the back), dark, graphic prints and dashes of baby and bubblegum pinks. All unsurprising when Braganza says his collection is inspired by the "contradictions of femininity". Despite my bristling at another man talking about just how crazy us women are, it was a win from the Canadian designer.
Jasper Conran (6pm) is one Brit designer that has never quite lit a fire beneath me, but as it happens, his positioning on the schedule – with all of the cool, urban shapes that came before – may have been just perfect for the heritage brand, perhaps now best-known for the J by Jasper Conran range at Debenhams. The collection of perfectly pretty skirts and dresses in pastel shades, reminiscent of a summer by the sea, were the ideal palette cleanser for what came before, and ended up looking fresh and utterly lovely.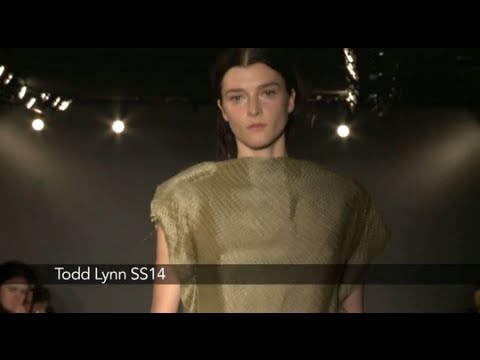 Hair got the wet-look treatment once again at Todd Lynn's 7pm show, although unlike Felder Felder's mermaid-like beauty, this was definitely on the grunge side of the scale. Lynn's signature tough-girl aesthetic was present in the opening look, a biker gilet with matching trousers, but things softened up from there on in – with looser palazzo pants and sleeveless blazers layered over soft, striped silk shorts. It was all very cool, very sexy but a little undone – nothing bodycon, but lots of skin on show beneath those aforementioned open jackets or to the rear of a backless jumpsuit. Like All Saints before him in NY, Lynn's was a very A/W take on S/S.
PPQ's (8pm) is always one of the most fun shows of London Fashion Week, coming at the end of a loooong first day and providing, without fail, a riot of colour and celebrity (Chris Pine!). This time around, though, something fell flat. Instead of presenting a collection of dresses that you'd like to go and party in, these feel like dresses I already partied in – courtesy of Miss Selfridge, in 1998. Add to that the fact that skirts were too short (above right) and models, by and large, were too small – giving the impression of young children dressing up in their promiscuous older sister's clothes.
A dodgy end to a fabulous first day. Back tomorrow with day two highlights, including the glorious John Rocha show.