Christina Aguilera's Your Body video – the visuals
It would be misleading to say that Christina Aguilera rocks candy-pink hair in the newly released video for Your Body, directed by Melina Matsoukas; it would, in fact, be more accurate to say that she rocks everything in the video, …
It would be misleading to say that Christina Aguilera rocks candy-pink hair in the newly released video for Your Body, directed by Melina Matsoukas; it would, in fact, be more accurate to say that she rocks everything in the video, from candy-pink to bleach blonde, curls to poker straight, dreadlocks, diamonds, leopard print, Mark Fast . . . Take a look, and then come back for the group discussion: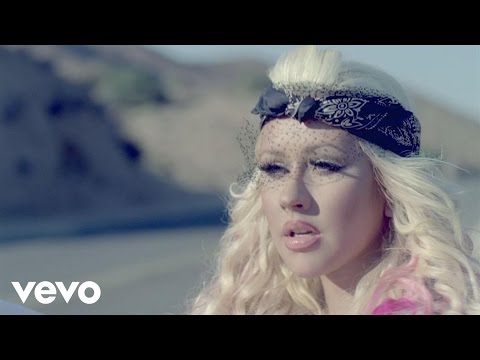 Here's XTina at home, just chillin' out in front of her computer, rocking her starfish earrings, more rings than I've seen in my life – and I went to school in an area where rings were big news, so that's sayin' something – and a pair of amazing white shades that would put Macademian Girl to shame.
In terms of pure sexiness, this is my favourite of the video's myriad looks – I love the candy-pink hair (I know, I know, I should be over it by now) and the leopard-print vest paired with the super-bright bra and French knickers. Gorge.
More bling! And great make-up, complete with slick false eyelashes. This video, honestly, is perfection to me.
Who doesn't lounge around one's house in one's leopard print stilettos and pink leggings, with a bra strewn over one's granny's couch and a bike in the livingroom? Who?!
Here's an unfortunate headband moment but just look at her perfectly OTT make-up!
I didn't want this to become a post about Christina's body, but just look at it. I love it – and a world away from how she looked for the Not Myself Tonight video, two short years ago. There's something so empowering (not just for XTina but for all of the rest of us) about how she really isn't shying away from her more womanly figure in this video; she's still going the skintight route, and she looks amazing for it.
The video is fairly . . . violent, in that XTina's mission seems to be to murder as many men as possible, but when they're dying in pink glitter explosions and pastel blue paint is being splattered across the murder scene, well. You can't take it too seriously. (Love this F*ck the Paparazzi tee, too – oh celebrities! Always giving the middle finger to those who make them famous!)
More good face – and incredible earrings – post-murder.
Christina goes back in time – to the Dirrty video – with her dreads.
A classy bathroom moment with what look like Charlotte Olympia heels.
This is exactly what I look like when I jump out of a Hummer, too – these pink slingbacks are so girly and pretty, and you can just see a peep of XTina's Mark Fast dress!
Back at the ranch, trailer-trash XTina is about to hop into her sunbed with, er, all of her clothes on. Is this a criticism of a popular American pastime? Is XTina making fun of the US's trailerpark dwellers? Or is she merely a bit chilly and saving on her heating bills?
These shades are everything. This whole video really nods to the trend for exaggeration and for over embellishment, embodied by no one more than Anna dello Russo (and her H&M collection).
I am always astounded by the attention to detail that goes into making music videos – the sets, the props (this perfect pink Hummer), the backdrops . . . it's such a huge undertaking, for a four-minute result.
Aaaaand the pink glitter finale. I'd love to see Panti and Bunny redo this video on Saturday night at Pantibar – in a way it feels very much like it's borrowing from the drag tradition (or does drag borrow from XTina?).
What do you think of this latest video?