Rihanna and Roy Lichtenstein – really
This isn't anything new, but it is an interesting music video, aesthetically speaking, from Rihanna. Whatever one thinks about the song (me? I say 'nyeh', add a bit of 'I could dance to it' and then bop my head enthusiastically), …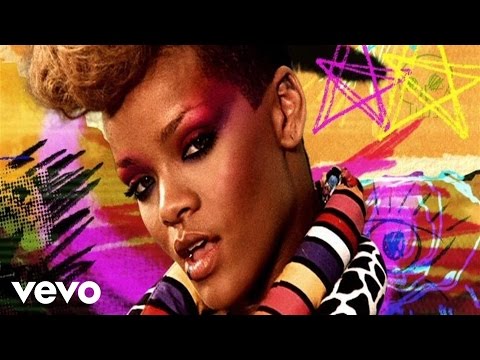 This isn't anything new, but it is an interesting music video, aesthetically speaking, from Rihanna. Whatever one thinks about the song (me? I say 'nyeh', add a bit of 'I could dance to it' and then bop my head enthusiastically), the video has some really interesting echoes and imagery – and is a far throw from her debut, Pon de Replay.
Rihanna has done a complete Christina Aguilera on it since those heady days of early pop stardom, and turned herself from a generic pop starlet into a near-Madonna character. Unfortunately for her, Gaga came along right about the time that the queen's throne was up for grabbing and, well, grabbed it, but Rihanna's fashion choices are definitely worth keeping an eye out for – whether or not she gets it right, she always has something interesting to show.
But back to the video: while there are obvious references in the video – to rasta, for one, with the dominance of Jamaican colours, and the really great grass skirt, there are also serious Grace Jones vibes. Then there's something that I wouldn't really expect to see from Rihanna: am I the only one who sees serious echoes of Roy Lichtenstein in the video?
There's something about the bright, primary colours and the graphic backgrounds in Rihanna's video that reminded me of Lichtenstein, which is funny because he's not an artist I'd think about all that often. I think it's the highly stylised nature of the video, and the juxtaposition of the kind of old-school feel with the arty backdrops that are doing it for me . . . am I being crazy, or do you see it too?