irishtimes.com

- Posted: June 5, 2012 @ 7:48 pm
Locals turn out in force for Trap
Carl O'Malley
"It's like Wicklow, but bigger" was how one particularly poetic hack described the area surrounding Sopot when on route to the Baltic seaside resort from Lech Walesa Airport.
Paul McShane from the Garden County will feel right at home.
On arrival, one could be forgiven for thinking Euro 2012 fever hadn't quite pitched up yet. Ten minutes down the road in Ireland's training base in Gdynia, nothing could have been farther from the truth.
There was an ominously themed Titanic bouncy castle and a human gyroscope, presumably simulating the effects of being in the middle of a Spanish tika-taka midfield headmelt.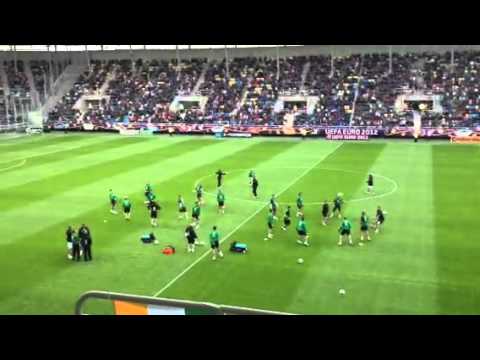 It was all go-go, as the dancing girls warmed up the stage in the Municipal Stadium for FAI chief executive John Delaney and, then, Giovanni Trapattoni and his 'Boys in Green' squad.
A warm reception, indeed, but not everyone was happy. One banner exclaimed: "Fuck €uro".
"Preaching to the choir", might well have been the response had the Irish been in town en masse.
The players were warmly applauded after firstly booting around 20 balls into the crowd of around 12,000 – with due warning, it should be noted – and the warmth from the home fans was reciprocated afterwards by Trapattoni, who naturally, was the big draw for the locals.
"You could see with this people, country, they welcomed us very kindly … I saw many times with Juve, Bayern, we play four or five games in this situation."
Asked if he expected the turnout, he added: "No, it was a big surprise for me. I heard maybe 2,000 or more. I think we have to pay our respects back for this kindness we have received today."
Earlier, Delaney stopped short of throwing his tie into the crowd, but he did ask the home fans to adopt Ireland as their own, after, you know, their own.
They seemed genuinely enthusiastic about the idea, though. Perhaps there's a few zloty behind the bar at the local.