irishtimes.com

- Posted: June 1, 2012 @ 5:27 pm
Golden Moments #3: Who put the ball in the England net?
Mary Hannigan
The third installment of Mary Hannigan's moments to remember is a look back on the, frankly, unforgettable 1-0 win over England in Stuttgart.
When: June 12, 1988
Where:Stuttgart
The tournament: Euro '88. Altogether now: "It was in the year of '88 in the lovely month of June, when the gadflies were swarming and dogs howling at the moon, with rosary beads and sandwiches for Stuttgart we began, Joxer packed his German phrasebook and jumpleads for the van."
The game: The Republic of Ireland v England, the opening Group B match in the European Championships.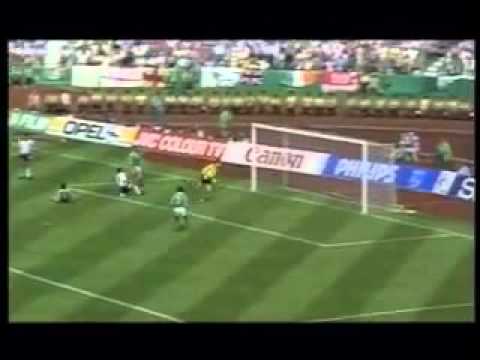 The moment? Like you need reminding? Just six minutes gone, Kevin Moran took a free-kick from inside his own half and when the ball dropped out of the sky on the left of the penalty area, Mark Wright and Gary Stevens, with Frank Stapleton in close attendance, got in each other's way and made a bags of trying to clear it. It fell to Tony Galvin, he hooked it in to the box, Kenny Sansom took a swing at it, miskicked it, John Aldridge nodded it towards Ray Houghton, who headed it past Peter Shilton. Not, it has to be said, the most elegant goal ever scored, but possibly the most delicious. Especially because it proved to be the winner, Packie Bonner making, oooooh, 96-ish saves over the next 84 minutes.
What he said: "I gambled and made a run into the area. Shilton was out a bit so there was a lot of goal to aim at. It sat up and I was under no real pressure. It was just a case of picking your spot. And I hit that spot. Then it was pandemonium."