irishtimes.com

- Posted: January 26, 2011 @ 11:12 am
Sexism, refs and videotape
Jason Michael
Back in the day, when sky was something over your head and football was freely available on terrestrial channels, Saturdays followed their particular rituals.
Early afternoon was the Saint & Greavsie show. Former Liverpool striker Ian St John and ex-Spurs front man Jimmy Greaves would intersperse their football programme with banter – occasionally amusing, often politically incorrect in the manner of an uncle recounting a long joke after Christmas dinner. As was his wont, Greaves was particularly fond of mining the (in)ability of Scottish goalkeepers for source material.
This was an era of live football on ITV and the evocatively titled Rumbelows Cup, although it was decades later before I realised what Rumbelows* was, which does rather miss the point of sponsorship. There was a first division that really was the first division, footballers strolling around in shorts the size of a generous postage stamp, and it was the heyday of British wrestling – aka Big Daddy beating the bejasus out of Giant Haystacks.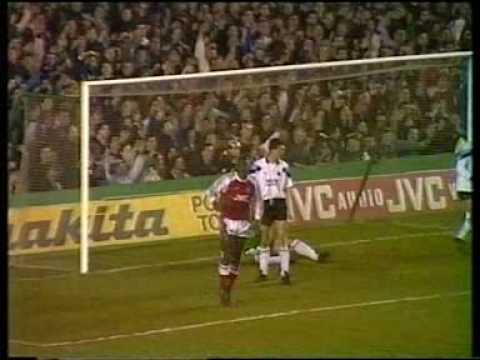 Pre-Sky was a simpler time when Andy Gray did his talking on the pitch. If memory serves (and it increasingly doesn't), I remember him as a fearless centre forward frozen in superman pose as he dived to head goalward on a Howard Kendall team that brought silverware success to Everton unsurpassed since.
Fast forward to 2011 and the football landscape is as alien as political accountability is to Ireland. Sky, and the money that has followed it into the game, have voraciously gobbled up broadcasting rights to provide us football eight days a week. Games are hyped up so far beyond their billing as to render the phrase "crucial mid-table clash" a viable promotional tag line, and game analysis now rivals the match in length. Sky sprinkles the glamour dust as lesser lights take their turn to be Premiership Cinderella, dancing with the big names as they keep half an eye on the cellar trapdoor.
Anchoring this coverage for some two decades were two constants: frontman Richard Keys and Gray, the latter high priest of high-tech Subbuteo, explaining how Liverpool just lost another game from angles and dimensions once the preserve of theoretical physics. The Saint and Greavsie of the Sky era.
No more. Amid allegations of sexist behaviour, Sky have sacked Gray in response to what the broadcaster said was "new evidence of unacceptable and offensive behaviour". Keys and Gray were already stood down earlier this week for the Wolves v Liverpool match after a recording of disparaging comments made about female referee Sian Massey emerged. Gray was then given the boot when footage emerged in which he appears to make an inappropriate remark to a female colleague. At time of posting, the position of Keys at Sky remains uncertain, with another video appearing on Youtube.
Edit: Keys has now resigned from the broadcaster, apologised for his comments and accused "dark forces" of thwarting his attempts to make amends earlier. Full transcript of Keys's radio interview is here with audio here – methinks it will become a staple PR text on how to douse a firestorm of controversy. With petrol.
There are constants in sports, and one of these is that broadcasters will come a cropper in a very public way from time to time. Their very talents – being comfortable in the public sphere – can be their Achilles' heel. Broadcasters may be used to performing for public consumption, but the on and off button settings, the public and private thoughts, can blur amid the chatter until one day the red light stays on, and no one sees it.
In May 2009, Saint and Greavsie reunited for a 2009 FA Cup special. Commenting on their demise, Greaves said: "ITV had a big sulk, they'd lost the football to Sky, everything got wiped off the screen and we got wiped off with it. The world has become far more politically correct and in doing so has lost a massive amount of its humour."
"A lot of foreign lads have come in so it can't be the same," St John said at the time. "The ­Britishness of it all has been eroded. It's totally changed in the years we've been away. I think the British humour the ­ public have and we have, that maybe is something we relied on … a lot of the lads do not speak English."
The world moves on, and football viewing on television has changed beyond all recognition. But, just maybe, the views within the game – among those who play it, manage it, comment on it today – haven't moved that much at all.
Other notable broadcasting sackings:
Former manager and pundit Ron Atkinson
Former Australian cricketer Dean Jones

Former bookie and NFL pundit Jimmy "the Greek" Snyder
Former footballer Robbie Earle
*Rumbelows: Purveyors of electrical and electronics goods