irishtimes.com

- Posted: November 15, 2010 @ 8:23 pm
Off the pitch tweetment to blame?
Jason Michael
The malaise affecting the national rugby team is all the fault of Twitter, apparently.There I was, sifting through the online reaction to the weekend's win over Western Samoa – I'll take any light relief as we wait for the IMF to put the boot in – and found more than one messageboard poster opining that players having too many furrin coffees and microblogging were having a detrimental effect on the on-pitch performance.
It wasn't explained as to whether these elements worked best in devious combination or one was somehow a byproduct of the other, but too many keyboard characters and not enough pitch characters seemed to be the theory.
Whatever about its performing dehancing qualities, Twitter has opened an interesting new line of communication between sportspeople and a wider – and not necessarily sporting – audience. In an age of formulaic press conferences, product-endorsed interviews, and people media-coached to within an inch of their giant tie knots, blogging can offer a portal, for better or worse, into the unfiltered thoughts of an individual.
However, to paraphrase a quote, a controversial tweet can be doing laps of cyber space before a bland one has hit the screen. Throw into the mix the growing blurring of public and private space, the fact blogging sportsfolk can be hazy on those boundaries and have plenty of spare time on their hands, and the traditionally observed sanctity of the dressing room, and you have a potent mix that can combust in hugely entertaining controversy.
There's the rants – whether it's Darren Bent railing against the Spurs chairman over what he perceived to be a delay in his transfer to Sunderland ("Do I wanna go Hull City NO. Do I wanna go stoke NO do I wanna go sunderland YES so stop f****** around levy [sic]."), or cricketer Kevin Pietersen revealing he'd been dropped by England (Done for rest of summer!! Man of the World Cup T20 and dropped from the T20 side too.. Its a f**k up!! ).
Then there's what could be termed "post in haste, repent at leisure": step forward Australian swimmer Stephanie Rice who had to apologise and lost a contract with Jaguar after making a "faggot" remark on Twitter following an Australian rugby win over South Africa in Bloemfontein.
Moreover, tweeting is a tough tide to stem – managers' monitoring of footballers' favourite night spots just doesn't cut the mustard. During the Ryder Cup, European captain Colin Montgomerie requested his team refrain from doing so, but this instruction seemed more honoured in the breach than its observation. I can't remember anything of note tweaking out (cunning eh?) from either the European or US camp, so either I wasn't paying much attention or golfers are as dull online as many of them appear to be on the course.
But let's not single out the fore! faternity. Despite what blogging and social networking sites would have you believe, the vast majority of people's witterings don't amount to a hill of beans. We're not all Stephen Fry, and there's no reason to imagine blogging sportspeople would constitute a Wildean subgroup. This is not a bad thing. A quick glance at the IRFU Twitter section sees players commenting on how training went well or the merits of burger joints. No hint of a  rant here – normal people doing normal stuff while happening to be professional rugby players.
Our scrum issues and demise in back play aren't blogging issues; if players develop twitching in their hands from overtyping and too much caffeine, it's a blogging issue. If chronic sleep disorder strikes the squad due to late-night tweeting, blogging is an issue. Otherwise, it's the unsexy intangibles of players and their form, coaching and management, team selection and use of the bench.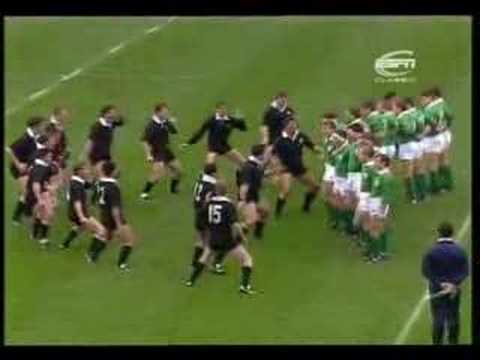 Nevertheless, it might bring some gaiety to the nation if an opposition's playbook turned up on Facebook (taxi backseats are so passe) or somebody generated a bit of pre-match grudge by slagging off the haka in a tweet worthy of Willie Anderson in his playing pomp.
Then there is the approach of Leceister Tigers director of rugby Richard Cockerill. Responding to reports last August that a player had tweeted the prognosis surrounding his ankle injury, Cockerill replied: "He is banned from tweeting. The next time he does that I will break both his ankles. None of our players will be tweeting or Facebooking anything about Leicester Rugby Club ever again." Quite.