irishtimes.com

- Posted: November 4, 2010 @ 3:31 pm
Embers flare ahead of Ashes series
Jason Michael
Winter time may have arrived along with my self-diagnosed seasonal affective disorder, but at least light-box therapy in the form of watching the Ashes cricket on the telly is on the way.
Off the pitch, the standard pre-series theatrics are already under way – but with the added novelty that England have arrived Down Under as holders of the little replica urn while the Aussies carry an uncomfortable feeling they just might be underdogs this time round.
At least both captains are giving it some lets-get-ready-to-rumble welly. Ricky Ponting was discretion personified when giant images of himself and lieutenant Michael Clarke were recently projected onto Big Ben, complete with the instruction: "Don't forget to pack the urn". Westminster City Council weren't best pleased, apparently, so trouble ahead there then.
Not to be outdone, Andrew Strauss recently declared both sides to be "at war with each other" over the five-test series, which for the diplomatic Strauss is close to projecting an image of himself onto the Sydney Opera House with the tagline "Nice roof, rubbish acoustics".
Perhaps it's the lingering effect of England holding a team-bonding camp in Germany, but hopefully we'll avoid overtly military themes or an outbreak of camouflaged, wide-brimmed hats reminiscent of Corey Pavin and Operation Storm Kiawah Island. I do have a sneaking suspicion, though, that somebody in the Australian camp will at some point invoke the sacrifice made by Anzac forces at Gallipoli while drawing a sporting parallel. You have been warned.
The verbal sparring isn't confined to current players either. Former Australian bowling great Dennis Lillee last week declared his country's bowling attack to be better-equipped than England's to bowl the opposition out twice. Responding, ex-England captain Allan Lamb blasted (in tabloid parlance): "I think Dennis Lillee has lost it. He's talking absolute nonsense. He must be drinking that Bundaberg rum or something."  We wait with interest to see who gets to quaff a celebratory bottle of Bundaberg and who munches a plate of pie served humble. This should not, of course, be taken as endorsement of a particular brand of beverage; other fine brands of rum are available. Pies too.
Another former Australian fast bowler, and now former selector, making the headlines was Merv Hughes. Commenting on his recent demotion from the Australian selection panel, the moustachioed one declared to the Melbourne Age: "At the end of the day, the decision's been made, and I got the rissole." A rissole is a tasty burger-like concoction in my world. Who knows what it is in Merv's? Answers in a post please.
On the field of play, these Ashes happily come with more questions than certainties, with England seemingly on an upward, or at least steady, curve/line thingy, while Australia remain a team in transition. Being in transition is dangerous as there can come a point when transition time runs out and what's left is an average team, with no immediate promise of better things to come. Sporting self-confidence may be as Australian as calling your flip-flops thongs, but the Aussies – coming off a series loss in India and now getting beaten up by Sri Lanka – have the look of a team that's glanced down at their feet and found clay.
The names of Shane Watson, Doug Bollinger, Nathan Hauritz, and Steven Smith may yet be writ large in the Ashes history books but for now they lie in the shadow of greats such as Glen McGrath, Shane Warne, and Adam Gilchrist. Much now will depend on Ponting's ability to remain at the crease, and Mitchell Johnson rediscovering a bowling radar that once made him one of the top bowlers in the world but now often resembles a compass in a magnet factory.
England, by contrast, have a settled looking bowling and batting lineup and are coming off a successful, if controversy-mired, summer series against Pakistan. Bowlers Stuart Broad and Graham Swann are no-one's idea of shrinking violets – a good thing when touring Australia – and the latter in particular has an air of matchwinner about him. Most important, England are captained by the Strauss, who, declarations of war aside, is unlikely to become enmeshed in the type of controversies that dogged England captains past and can make trip to Australia feel like the penal servitude it was once intended to be.
Then's there's the Irish question: Will Eoin Morgan feature in the test team? He has the temperament, array of strokes, and power to make a conventional test innings look dated – and this bloke thinks so too.
However, it looks like Morgan may have to bide his time behind Ian Bell as his English teammate seeks to convert his talent into a better average than the early 40s one currently stalking him like a new friend in freshers' week.
Indeed, before we get too gung-ho about England's chances, it would be wise to remember their 2006-2007 Australian tour, which ended in a 5-0 thumping after starting badly and going downhill from there. "There" was the moment England bowler Steve Harmison's first ball  of the series inconveniently bypassed the batsman, wicket and wicketkeeper and found his mate Andrew Flintoff at second slip (the one after first). As a Youtube poster put it – "shoddyline bowling".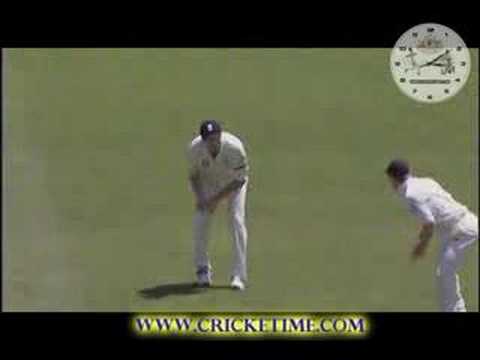 On to predictions. Terms and conditions apply, actual events may bear no resemblance to those forecast etc, etc.  A 2-1 series win for England, and the nominations in the other categories are:
Best series bowling figures: Graham Swann
Best series batting average: Ricky Ponting
Player most likely to incorrectly think he's taken a wicket: Stuart Broad.
Most likely to score a century in least amount of balls: Kevin Pietersen
Most likely to get out slogging horribly on 99: Kevin Pietersen
Phrase most likely to be associated with Eoin Morgan: "He learned that shot through playing hurling"
Most annoying crowd chant: "Aussie, Aussie, Aussie, oi, oi, oi/Barmy army, barmy army (repeat ad nauseum)"
Finally, (hey, why stop with all this bandwidth?) with the promise of the usual "whingeing pom" and "boorish Aussie" epithets to come, here's a couple of printable sledges from years past. Granted, none would guarantee you sparring rights with Dorothy Parker at an Algonquin roundtable session, but then I wouldn't expect her to perform a flawless cover drive off a seaming ball on a wearing pitch
"When in Rome, dear boy, when in Rome." Former England captain Mike Atherton's responding to Aussie wicketkeeper Ian Healy when told he was a cheat for failing to walk
"Don't bother son, you won't be out there long enough." Legendary England bowler Fred Trueman to an Aussie batsman as he walked down the pavilion steps at Lord's
"Maybe not, but at least I'm the best player in my family." England seam bowler James Ormond to Mark Waugh, twin brother of Steve, after being told he wasn't good enough to play for England.'
"The only fellow I've met who fell in love with himself at a young age and has remained faithful ever since." Dennis Lillee on Geoff Boycott
So there you have it, two teams of men in white trousers, trying to hurl, hit, and chase down a little red ball as hard as possible, while aiming verbal abuse at each other, with the potential for a diplomatic incident or two if things get really juicy. All predictions, observations, and recipes for rissoles welcome. More anon.