Shane Hegarty on high-fiving Roses, getting lost in transition, why there's nothing like a closed road and other notes on Saturday morning's Tri Kingdom Come FENIT, organised by Tralee Tri Club
THE SWIM
It was a fine morning in Fenit, with only a few spits of rain – nothing compared to the couple of monsoon days there had been earlier in the week. And it was a good thing, because the swim was choppy enough as it was.
Competitors first walked the length of the beach to the starting point, where the two waves went from a roving start line in the water and headed straight for a yellow buoy only 35m or so away. At that turn, depending on your position, it was elbows and feet and general mayhem. Me? I picked an inside line that couldn't have been better calculated to get me milled by the pack. It was like being being stuck inside a tumble dryer filled with limbs.
After a challenging swim, not much fun for right-sided breathers, triathletes emerged to find a selection of Roses of Tralee waiting to cheer them on. One of them high-fived me as I left the water. This was surprisingly thrilling. [Pic above was posted by @podsta]
You can watch the Roses greet the triathletes in the first minute of this video.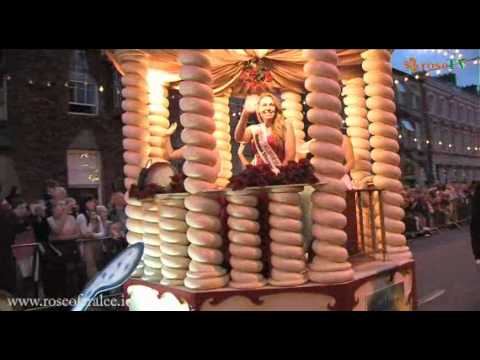 TRANSITION 1
Having realised that a tight, packed transition area would need me to be extra careful about remembering my bike spot, I spent ages in advance memorising the run in and my exact place. Then, during the race, I ran straight past it.
THE BIKE
A closed road! They're rare enough in races. Some races have partially closed roads, while others are completely open and often busy with dangers, so this was a treat. The course itself was straight up to a turning point and back (and a little short, but they told us that in advance). Great marshaling and a nice smattering of support, which built as we came back into Fenit.
TRANSITION 2
Found my spot this time.
THE RUN
A good course, on which you were only ever going up, or coming down a slope. TD Martin Ferris was at one of the turns. He did NOT high-five me.
Aaron O'Brien came in first at just over the hour mark, and Karina Teahan was first woman home. The Fenit Flyers won the relay. All the results are here (and in more detail here).
On a personal note, it was the first race in 12 attempts in which my run was the strongest discipline. It's the very first time I got off the bike and felt really strong(ish). I'm training for the marathon at the moment and that's made a world of difference, as has a little tempo and interval running.