It's raining. It's pouring. So, there's nothing for it, but to get wetter still.
The "Lilliput Legend" is the most eye-catching of events taking place this weekend, combining kayaking on Lough Ennell, with a cycle through the Bog of Allen, followed by a hike over the ancient volcano that is Croghan Hill.
The organisers have asked spectators to be on the look-out for "surprises". This doesn't sound promising when there's a volcano around, though we're assured it's extinct… then again, rivers of lava are unlikely to pose any problem for thrill-seeking adventure runners.
Looking for a personal best? Then take a wander over to Clontarf. A 5-mile and half marathon gets underway on Saturday. It's one of the flattest courses around, with a hint of downhill in parts, and as of earlier today, the organisers still had entries available (though they need to be picked up from the race organisers based in Ballymount).
Or fancy a plunge instead? The Cope Triathlon Galway Ocean Race starts in Sunday morning. The event consists of a 750m swim followed by 20 km Cycle and 5km run along the scenic Galway Bay coast line.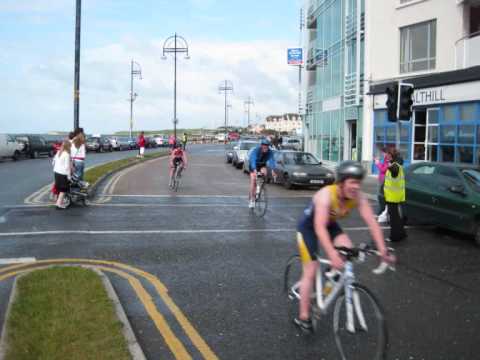 For other races where your are, check out below. Any others we don't know about? Let us know. And be sure to update us on your progress over the weekend…
Lilliput Legend – The Midlands Adventure Race, Co Westmeath
Time: Saturday, 7th July, 10am
Cost: 50 euro
Closing date for entries: Friday evening
Clontarf 5-mile and half marathon, Dublin
Time: Saturday, 7th July, 10am onwards
Cost: 30 euro for half marathon, 20 euro for 5 mile
Closing date for entries: Some entries were still available earlier, but must be picked up from race organisers
Donadea Forest Run 8k and Duathlon, Co Kildare
Time: Saturday, 7th July, 10am
Cost: 25 euro
The Garden of Ireland 7K Run and 3K Family Walk, Enniskerry, Co Wicklow
Time: Saturday, 7th July, 5.30pm onwards
Cost: 10euro – 25 euro
Closing date: Some entries still available from organisers
SUNDAY


Galway Ocean Race Triathlon, Salthill, Co Galway
Time: Sunday July 8th, morning
Cost: 50 euro entry fee, plus mandatory 20 euro donation to COPE Galway
Closing Date: Friday evening
An Grianan Family 5k run, Co Louth
Time: Sunday, July 8th, 3pm
Cost: €10 per adult or €20 per family
Closing date: This weekend