Is the BHAA one of the running world's best-kept secrets? It's cheap, friendly and professionally organised (… plus, they do a mean post-race barm brack), writes Carl O'Brien
Yesterday, on a balmy Tuesday evening, more than 200 elite and not-so-elite athletes gathered in Dublin's Phoenix Park to run a 5km trail run.
It was one of the 20 or so race meetings organised each year by the Business Houses Athletics Association, a voluntary organisation which has been on the go for more than three decades.
The cost for members? Just a tenner. For non-members? Fifteen quid. And what do you get? A professionally organised race and chip timing. But, much more importantly, there's the friendly atmosphere, mountains of sandwiches, barm brack and prizes for dozens of competitors of all abilities.

Hundreds turned out for a BHAA race at Trinity College Dublin earlier this month

The aim of the association is to promote inter-firm athletics and encourage those who want to enjoy a more sociable type of sport. But it's also open to anyone of any ability who just wants to take part in a well-organised run.
"What's unique here is the ethos," says Susan Walsh, who offers lyrical race commentary from a loudspeaker, attached to the BHAA's disctintive yellow Land Rover. "It's not about winning or being second or third. What's more important is you're encouraging your work-mates to get out and run."
There are all shapes and sizes, from wiry vertans to buxom beginners, in a range of kit ranging from sleek lyrca to baggy shorts.
Lots of running events these days are attracting huge entries. But Walsh is puzzled at the mass appeal of some of these major races, which tend to be considerably more expensive.

More women are signing up to take part in races
"You're competing in an anonymous race, yet you've got these smaller, friendlier races, you have the cup of tea, a chat and brack afterwards – we absolutely have to have the brack!" she jokes.
The BHAA's races vary over the course of the year: cross-country in winter, road races and beach runs in the summer, with the odd venture into track running.
Last night's race was organised by the Irish Prison Service (the air, inevitably, was thick with prison-related jokes… first prize? An overnight stay in Wheatfield…) took runners through an obstacle course of tree roots and low lying branches, along with a challenging ravine for good measure.

The Irish Prison Service is one of many groups that help organise races
The next event – a 5km road race – will be organised by volunteers linked to Dublin City Council. Most races take place within the greater Dublin area, with occasional forays to Meath and Kildare. The BHAA in Cork also organises races around the county.
Walsh says anyone is welcome to join the association, or just come along on the day.
"We're not fussy about what you wear or what you look like. This is for everyone," says Walsh. "This is like a community: you get to know the people over time. Everyone is welcome."
Check out the BHAA's website in
Dublin and Cork
Photos courtesy of Kevin Maguire photography.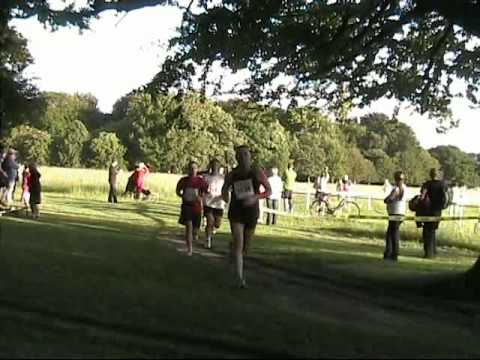 Last year's BHAA 5km run in the Phoenix Park