…so, it's worth having a look back at the first (and only) one.
Focus Ireland has organised a 10k through Dublin's Port Tunnel on August 12th. This is what it looked like: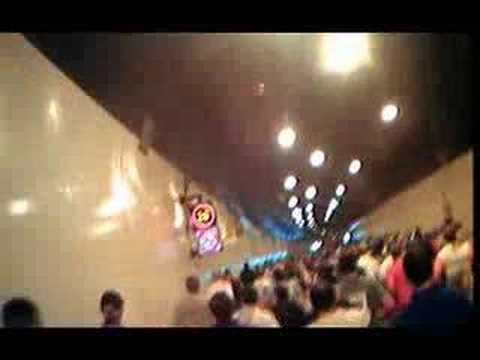 And this is what it sounded like: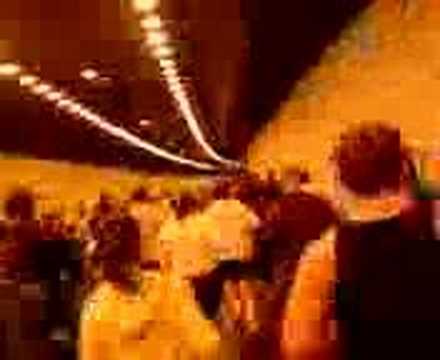 And this is what it was like to do it, according to Paul Cullen's report in The Irish Times from the day in December 2006 when the runners took to the tunnel before the drivers got their chance.
For one day only, Dublin's new port tunnel was open to the public – provided you were running – and yesterday over 10,000 of us couldn't resist the challenge. Surreal is the only way to describe the experience of running underground: racing up a hill while below sea level; travelling under Dublin's streets and parks rather than on them; passing along a road no carefree pedestrian is ever likely to see again.
We gave the €750 million project a mighty welcome. There were Mexican waves at the start, enthusiastic chants of "Olé, Olé, Olé" as we entered the tunnel and then a huge roar as we dropped down into the limestone and boulder clay under the capital.
Outside, as we waited for hours at the starting line, it had been cold and windy and wet. But once inside the tunnel it was warm and still and free of rain, a micro-climate bathed in fuzzy yellow light. A dry run for the tunnel, in more ways than one.
It isn't especially large, this tube of concrete and tarmacadam bored under Dublin's streets; two lanes for traffic each way, a ceiling about five metres high and cream-coloured walls that seemed unforgivingly close in the event of an accident.
Perhaps it was the proximity of so many other runners, or the effort involved, but the sense of claustrophobia was undeniable.
As the roar passed along the field, like an aural Mexican wave, many of those close to me looked around anxiously. We'd all read about the problems with leaks during construction and joked about how we'd have to swim the course.
Now it was easy to imagine a giant wave of water sloshing down the tunnel towards us, as in a bad disaster movie.
Thankfully, there was no wave, and no water problems visible to the passing visitor. The only leaks in the tunnel yesterday were man-made ones induced by over-enthusiastic consumption of water before the race. The only water on the walls was condensed sweat as the race took its toll and a cloud of water vapour hovered above the field.
Such were the numbers that the leaders in yesterday's race were emerging at the northern end of the tunnel while the last runners were still waiting to get going back at the port.
On a surprisingly hilly route, we emerged briefly onto a rainswept M1 before turning into the second bore and running 4.5km back to where we started.
More than 3,000 women and almost 7,000 men registered for the run, with runners coming from as far away as Canada and Israel. For most it was a fun run, with numerous Santa outfits and a few children's buggies in evidence, but elite athletes took the race very seriously. Robert Connolly was a clear winner of the men's race, finishing in 30.22, followed by Martin Conroy and Alan O'Shea. Sinead Jennings ran 36.34 to take the women's category, with Barbara Sanchez second and Helena Crossan third. In the wheelchair race, Marcus Causton was closely followed by Patrice Dockery and Gareth Culliton.
Other runners included former Olympic medallist John Treacy, actor Keith Duffy and politicians Joan Burton, Tom Kitt and Alex Attwood.