Farewell to Zambia
A Village in Africa has finally come to a close. This short video looks back on some of the highlights of my month in Zambia, and the text below is a copy of the farewell feature that appeared in today's print edition of 'The Irish Times'. Thanks to everyone who helped out with the project over the past few months, and most of all, thanks to all the people in Makwatata and Mfumbeni who shared their stories.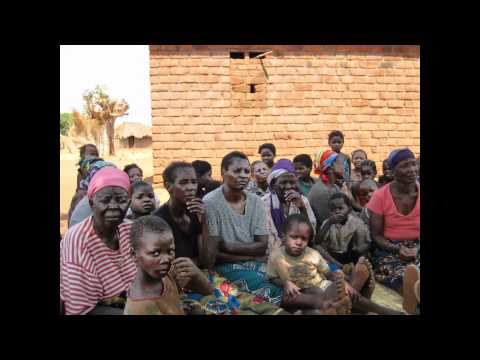 AFTER FIVE FANTASTIC weeks in Zambia's Eastern Province, The Irish Times's Village in Africa has come to an end. The project tried to document the life of one rural community, to highlight the challenges facing African smallholders and give a human voice to the statistics that can often ring hollow with an audience in the developed world.
The project has been incredible to work on. Most visitors to Africa see the continent from the back of a safari jeep. I feel privileged to have experienced Zambia from a very different perspective.
I won't miss the creepy-crawlies, or the possibility of encountering a cobra in the bush every time I take a trip to the toilet. Nor will I miss having to hold my laptop in a certain skewed position while sitting on a tree stump, with fruit dropping on my head, while waiting up to 40 minutes for a blog post to upload each day. But there are countless things about Zambia that I have been missing since my return.
For the first few days in Makwatata I sat outdoors to write, under the shade of a nearby tree. But my neighbours never liked to see me sitting alone, and would come themselves or send their kids to sit and keep me company. If I stayed indoors to write by torchlight they would knock in to bring me off to their gardens, to watch them farming, or into their kitchens, so I could learn to cook nshima. Although our communication was wordless for the most part, by the end of the trip I had made good friends in my neighbours.
Life is difficult in the villages. Producing enough food to feed the family, and raising a little extra money to send children to school and to pay for basic healthcare, are challenges that face almost every family. But despite the very evident poverty in this region, I encountered optimism among the people that things were slowly changing for the better.
One of the problems that struck me most during my time in Makwatata was the way women are treated in the community. Women farmers in Africa make up 33 per cent of the workforce, and provide 70 per cent of agricultural labour, yet are seldom allowed access to money or to make decisions in the household. Several women I met told me how the earnings raised from the household harvest are "stolen" by their husbands to be spent on women and beer.
Zambians want to be the drivers of their own development, however, and time and again during my month in Zambia I saw this in action. While a certain apathy exists, largely due to a lack of education, most people I met in Makwatata expressed a desire for change, and a commitment to work together to achieve a better future for their community and their country. A help up instead of a handout can provide communities with a sustainable system of development for the future as well as the now, and that is what they want, what they need and what they deserve.
I would like to thank the Nyewali family in Makwatata for letting me stay in their vacant mud hut, to Vanis Sakala, to Senior Chief Nzamane and his wife Nkosikasi, and to the people whose stories have been recounted here in the blog over the past two months. Zikomo.
---
A Village in Africa was facilitated by Self Help Africa (selfhelpafrica.org).